US halts weekly local police immigration cooperation report
The weekly report publicized by Trump's administration to showcase uncooperative agencies was suspended after the administration acknowledged it contained flawed data
---
Associated Press
WASHINGTON — A widely criticized weekly report publicized by President Donald Trump's administration to showcase local police seen as uncooperative with immigration enforcement was suspended Tuesday after the administration acknowledged the report contained flawed data.
U.S. Immigration and Customs Enforcement identified computer coding problems and mix-ups where jurisdictions were incorrectly placed on the report, said David Lapan, spokesman for the U.S. Department of Homeland Security.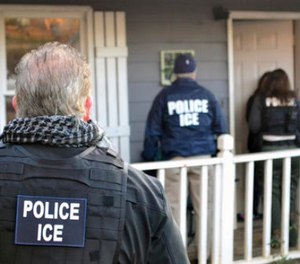 Several local law enforcement agencies had complained that information in the reports was inaccurate and unfairly targeted them — including some jurisdictions supportive of Trump's immigration enforcement efforts.
The administration started publishing the report weekly last month after Trump issued an executive order aimed at encouraging local police to help federal immigration agents trying to carry out deportations. It listed jurisdictions that had been deemed uncooperative.
Kern County, a vast rural agricultural expanse north of Los Angeles, ended up on one of the lists.
But Sheriff Donny Youngblood said targeting his law enforcement agency was wrong because federal agents have access to his county's jail and its data.
Being placed on the federal list prompted calls from angry residents of the largely conservative area, Youngblood said. So he complained to federal immigration officials.
"I explained to them this can be devastating for an elected official when you have to refute this," Youngblood said. "I am really pleased they're going to stop until they get this corrected. Correct information is what people should be getting, not a rush to be first to send it out, whether it is factual or not."
Many local police and sheriff's agencies across the U.S. have publicly proclaimed they will not cooperate with Trump's immigration crackdown.
Tension over whether U.S. local law enforcement agencies should assist federal deportation efforts dates back years.
But it has grown significantly amid the Trump administration's efforts to boost immigration enforcement and build a wall on the U.S.-Mexico border.
Some local law enforcement agencies fear immigrants will not report crime or trust officers if they believe local police will help get them deported.
Others have said immigrants who commit crimes must be released from jail once they serve their sentences, and won't keep them in custody longer for immigration agents to pick them up.
Also, some state and local laws have prohibitions on when immigrants can be transferred to the agents for deportation.
Copyright Associated Press. All rights reserved. This material may not be published, broadcast, rewritten, or redistributed.