Aide for Calif. AG accused of running rogue police force
Accused of operating force that claimed to exist for more than 3,000 years and have jurisdiction in 33 states and Mexico
---
By Matt Hamilton
Los Angeles Times
LOS ANGELES — An aide to state Atty. Gen. Kamala D. Harris and two others are accused of operating a rogue police force that claimed to exist for more than 3,000 years and have jurisdiction in 33 states and Mexico, authorities said Tuesday.
Brandon Kiel, David Henry and Tonette Hayes were arrested last week on suspicion of impersonating a police officer through their roles in the Masonic Fraternal Police Department, according to the Los Angeles County Sheriff's Department.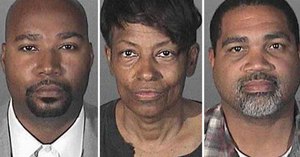 Kiel, 31, has worked as the deputy director of community affairs at the California Department of Justice. An office spokesman declined to comment on the criminal investigation but said Kiel is on administrative leave.
Suspicions about the Masonic Fraternal Police Department — whose members trace their origins to the Knights Templar — were aroused when various police chiefs in Southern California received a letter in late January that announced new leadership for the group, sheriff's officials said.
After the letters were mailed, a man claiming to be Kiel and describing himself as the police force's "chief deputy director" called various law enforcement agencies to schedule in-person meetings, sheriff's officials said.
Sheriff's Capt. Roosevelt Johnson, who heads the department's Santa Clarita Valley station, met with members of the group and became wary after they could not provide rudimentary information about the group's aims, the officials said.
A website identifying itself as the police force's official site describes what makes the group unique: "When asked what is the difference between the Masonic Fraternal Police Department and other Police Departments the answer is simple for us. We were here first!"
The website adds: "We are born into this Organization our bloodlines go deeper then an application. This is more then a job it is an obligation."
Following an investigation, officials said, sheriff's investigators searched two sites in Santa Clarita and found badges, weapons, uniforms and law enforcement paraphernalia.
The three were arrested Thursday and released later that day, according to jail records.
In addition to the accusation of impersonating an officer, investigators also allege Henry committed perjury under oath. Kiel is accused of misusing his government identification.
Copyright 2015 the Los Angeles Times
McClatchy-Tribune News Service