All defendants found guilty of NYPD explorer's murder
A jury found all five defendants guilty of first-degree murder
---
Molly Crane-Newman and Larry Mcshane
New York Daily News
NEW YORK — Five Bronx gang-bangers were convicted of first-degree murder Friday for the gruesome butchering of a 15-year-old aspiring city cop in a lethal case of mistaken identity.
The jury deliberated for eight hours over two days before returning their guilty verdicts against the killer quintet of Trinitarios in the June 20, 2018, murder captured in a heartbreaking video of victim Lesandro "Junior" Guzman-Feliz's final minutes of life. The verdicts were read in a courtroom filled with more than three dozen court officers.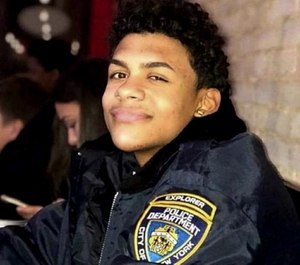 Defendants Jonaiki Martinez Estrella, Elvin Garcia, Antonio Rodriguez Hernandez Santiago, Miguel Rivera and Jose Muniz all face life in prison for their convictions. They were also found guilty of conspiracy and gang assault, and most showed no reaction as the jury delivered their decision.
"Hasta la muerte!" shouted an unrepentant Muniz — Spanish for "Til death" — in a declaration of gang solidarity after the verdict. Muniz, who also delivered a loud gang greeting in Spanish, attacked the helpless Junior with a machete during the frenzied and fatal attack.
The surveillance video presented by the prosecution showed Estrella plunging what appears to be a bread knife through Junior's neck as the killing came to an end.
"I'm not going to have my son back, but those killers, those murderers, they're not going to be outside killing other kids," said his mother, Leandra Feliz. "My son was a good kid, he was only 15 years old ... He was a really good kid. He'd never been in any trouble in his life until those kids murdered (him)."
The mom appeared relieved, as if a heavy weight was lifted by the sweeping verdict nearly a year after her son's murder.
The defendants, all members of the Trinitarios street gang, descended on the innocent and outnumbered victim with knives and the machete, dragging him to his death outside a Bronx bodega. The first-degree murder conviction meant the jury determined that Junior was tortured before his tormentors finally killed him.
Jurors asked during their first day of deliberations to review the horrifying footage in slow-motion, and Guzman-Feliz's mother howled in agony last month when she accidentally saw the video in court.
The execution of the innocent youth by the Bronx gang members broke the city's collective heart, with an outpouring of grief and loss following the brutal murder.
"Junior came to symbolize all of the young people who have lost their lives to brutal gang violence," said Bronx District Attorney Darcel Clark. "Today's verdict fortifies the Bronx community's stand against violence ... We hope that the verdicts bring some consolation to his family, who have endured so much pain."
A pair of turncoat witnesses testified against their former gang brethren, with one recounting the directions given to the killers by reputed Los Sures boss Diego Suero.
"If you have a gun, you shoot," he allegedly declared. "If you have a knife, you stab. If you have a machete, use a machete."
The cooperators avoided any jail time by cutting their deal with prosecutors before the trial started on May 6, with prosecutors arguing the teen's death was a calculated killing ordered by a gang leaders.
The victim's mom had wailed incoherently inside the Bronx courtroom during a court session where video of her son clutching at a fatal neck wound was aired. Court officers were needed to remove her from the building.
———
©2019 New York Daily News
McClatchy-Tribune News Service