Ex-con who worked for rich family arrested in their deaths
U.S. marshals and police tracked down and arrested a dangerous ex-convict and five others, bringing a sudden and safe ending to a multistate manhunt
---
By Ben Nuckols
Associated Press
WASHINGTON — U.S. marshals and police tracked down and arrested a dangerous ex-convict and five others, bringing a sudden and safe ending to a multistate manhunt in the slayings of a wealthy Washington family and their housekeeper, authorities said Friday.
The fugitive task force tracked Daron Dylon Wint to New York and back before they caught up with him late Thursday night in the parking lot of a Howard Johnson Express Inn in College Park, Maryland.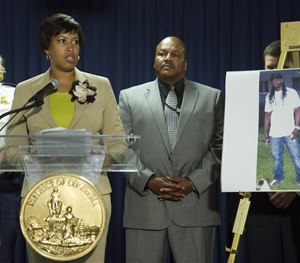 "We had overwhelming numbers and force," Robert Fernandez, commander of the U.S. Marshal Service's Capital Area Regional Fugitive Task Force, told The Associated Press on Friday. "They completely submitted immediately."
Police have not detailed why Wint — a welder who once worked for Savvas Savopoulos' American Iron Works company — would want to kill the executive, his wife Amy, their 10-year-old son Philip, and their housekeeper Veralicia Figueroa. Three of the four had been stabbed or bludgeoned before their mansion was set on fire on May 14.
Wint, 34, was arrested about 11 p.m. Thursday on charges of first-degree murder while armed, D.C. police and the Marshals Service said. He was expected to appear in D.C. Superior Court on Friday afternoon. Wint is the only person currently charged in the case and the only one of the arrested group expected to make a court appearance Friday.
"We believe he saw himself on the news and just took off," Fernandez said, heading north at first.
Investigators narrowly missed Wint in New York's Brooklyn borough Wednesday night before tracking him to the motel in Maryland, where they quickly realized he was probably in one of two vehicles in the parking lot. The car and a moving truck left together, and the team followed as they took a U-turn and a strange route, either getting lost or trying to shake them, Fernandez said.
A police helicopter joined the pursuit from above, and officers eventually got between the two vehicles in northeast Washington. Wint surrendered without a fight and showed little emotion as he, three other men and two women were taken into custody, Fernandez said: "He was stoic."
Fernandez said he noticed a big wad of cash in the moving truck, but didn't know how much was there. It was not clear whether that money might have been connected to the Savopoulos family. Fernandez said he did not know whether the group was carrying any weapons before local police took them into custody.
Police on Thursday did not rule out the possibility that other people were involved in the slayings, but said no other suspects had been identified.
Wint had worked for American Iron Works, where Savopoulos was the chief executive. The construction-materials supplier based in Hyattsville, Maryland, has been involved in major projects in downtown Washington.
The Savopouloses lived in a $4.5 million home in Woodley Park, where mansions are protected by fences and security systems and law enforcement is a constant presence, in part because Vice President Joe Biden's official residence is nearby.
Messages from the couple in the hours before their slayings confused and frightened their household staff and the slain housekeeper's husband, who said later they felt something was amiss inside the mansion. The executive's Porsche was later found in suburban Maryland, also set on fire.
DNA analysis at a Bureau of Alcohol, Tobacco and Firearms lab linked Wint to the crime, a law enforcement official involved in the investigation told The Associated Press on condition of anonymity for lack of authorization to discuss the investigation publicly.
Wint was convicted of assaulting one girlfriend in Maryland in 2009, and he pleaded guilty the next year to malicious destruction of property after he allegedly threatened to kill a woman and her infant daughter, breaking into her apartment, stealing a television and vandalizing her car. "The defendant advised he was good with a knife and could kill them easily and was not afraid of the police," a detective wrote.
Also in 2010, Wint was arrested carrying a 2-foot-long machete and a BB pistol outside the American Iron Works headquarters, but weapons charges were dropped after he pleaded guilty to possessing an open container of alcohol.
Attorney Robin Ficker said Wint didn't seem violent when he defended him in earlier cases. "He's a very nice person," Ficker said.
A housekeeper who worked for the Savopoulos family for 20 years, Nelitza Gutierrez, told the AP that she believes the family and Figueroa were held captive for nearly a day before they were killed, citing an unusual voice mail from Savopoulos and a text message sent from the phone of his wife, telling her not to come to the house.
The text message read, in part, "I am making sure you are not coming today." Gutierrez said she called and texted back but got no response.
The family's two teenage daughters were away at boarding school at the time. On Friday, the family thanked law enforcement for the arrest, asked for privacy and said they wouldn't give interviews. "Our family, and Vera's family, have suffered unimaginable loss, and we ask for the time and space to grieve privately," the statement says.
Representatives of American Iron Works have repeatedly declined to comment.
Copyright 2015 The Associated Press
Copyright Associated Press. All rights reserved. This material may not be published, broadcast, rewritten, or redistributed.