Informant speaks out on FBI investigation of Atlanta narc officers
---
'I just wanted to drift off. I wanted to disappear.' 
 
By RHONDA COOK
Atlanta Journal-Constitution
 
ATLANTA, Ga. — Alex White maintained a year ago he was a "hero" and risked his livelihood and life when he told federal authorities Atlanta cops were trying to cover up the truth about an elderly woman's death in a botched drug raid.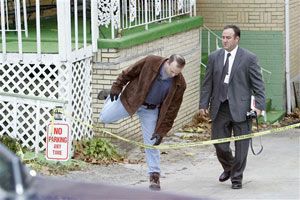 Atlanta Police Det. J. Owens, left, steps over the police tape as Det. C. Faircloth follows at the home of 92-year-old Kathryn Johnston Wednesday, Nov. 22, 2006 in Atlanta.(AP Photo/Ric Feld)
It is still his mantra.
"I am a hero," White said.
Now he feels abandoned by the FBI agents, who for months talked to him almost every day.
White admits he's become paranoid. He said it's been two to three months since he spoke to agents. He says they don't even return his calls.
"Are they mad at me?" said White, whose birth name is Alexis Antonio White.
He sometimes regrets telling federal agents some Atlanta police narcotics officers were trying to get him to lie to help them cover up the circumstances surrounding the killing of a 92-year-old woman who was shot to death by police one year ago this week.
"They've put a strain on my life," White, 25, said in an interview. "Where do I go from here?"
White was a certified confidential informant, having worked with Atlanta's drug officers for four years and considered reliable, when Kathryn Johnston was fatally shot in her living room by police executing a no-knock search warrant on a house where they hoped to find a kilogram of cocaine.
The officers wanted to use White in their operation. He had several drug arrests and spent two years on probation several years ago for a cocaine-related charge. On Nov. 21, 2006, White wasn't available because he had no transportation to the Neal Street neighborhood in northwest Atlanta to make an undercover buy for the officers.
The truth of what happened next gradually emerged in news reports, interviews and law enforcement records and in court testimony when two narcotics officers --- Jason R. Smith and Gregg Junnier --- pleaded guilty last April to state and federal charges: Johnson died in a hail of police gunfire. The next day, the officers involved began working on a cover-up.
They allegedly wanted White to help them.
White's version is that police put him in a car and spent hours pressuring him to cooperate. He says he refused, escaped from the vehicle and called federal authorities, who placed him in protective custody.
For seven months, federal investigators kept him in a hotel and called on him often to tell them what he had done and what he had witnessed police officers doing, White said.
The FBI has repeatedly declined to discuss its investigation.
"Do you know what it's like just sitting around, doing what they wanted me to do?" White said of his work with the FBI as it continued its investigation of Smith, Junnier and a third officer who has pending state charges, Arthur Tesler, as well as APD's narcotics unit and the rest of the police agency.
In April, White married the mother of his 7-year-old daughter. In September, they divorced, and he moved in with a friend who lives more than 20 miles from Neal Street, to a location he wants to keep secret.
White blames the stress of the past 12 months for the end of his marriage.
"It was a lot of things at one time," White said.
He wanted someone with him all the time, but at the same time, he wanted to be alone. "I just wanted to drift off. I wanted to disappear," White said.
White sees his daughter regularly and occasionally visits his mother and his younger sister and brother in East Atlanta, but he otherwise stays in his apartment and away from people and the city.
With each passing month, White said, he becomes more and more afraid and more and more angry. He sees law enforcement taking credit "for something they didn't do" in revealing the cover-up involving Neal Street. "I'm holding a grudge," White said.
At the same time, he insists, "This is a new Alex White," and he refers to the tattoo on his neck, which reads "truly blessed," when he talks of his new attitude and his intent to be a better citizen.
White, who occasionally works laying carpet but otherwise has no other job, has written a letter telling the mayor, the police chief and other officials he plans to sue them over his lost income as an informant, about $20,000 to $30,000 a year.
The letter also says White will ask to be compensated for his daily fear of the police and the drug dealers who now know he may have contributed to their arrests. White says he often sits in his apartment with a screwdriver in hand because he is a felon and cannot have a gun for his protection.
"I've got to worry about the cops. I have to worry about the people on the streets [who sell drugs]," White said.
"It's unreal thinking you're going to die, wondering if you're going to get framed. ... I wonder is my phone tapped? Are they following me? You know how easy it is to be set up when I'm by myself. That's playing with my mind."
White has mixed feelings about his decision to call federal agents instead of covering for the officers. Is he sorry for what he did?
"In a way, I am. In a way, I'm not," White said. "I'm sorry the lady got killed. I'm sorry I said anything [to the FBI]. November 21st changed my life."  
 
Copyright 2007 Atlanta Journal-Constitution