Mich. pursuit ends after suspect strikes 5 kids, killing 2
Driver accelerated to more than 70 mph while fleeing officers before striking and killing two young children and injuring three other children and an adult
---
By Corey Williams
Associated Press
DETROIT — The driver of a Chevy Camaro being pursued by police pushed the muscle car's average speed to 95 mph in a Detroit neighborhood where children were playing before striking and killing two and injuring several others, the city's police chief said.
The chase lasted just 62 seconds and spanned 1.64 miles, but left a trail of tears Wednesday evening on Detroit's eastside.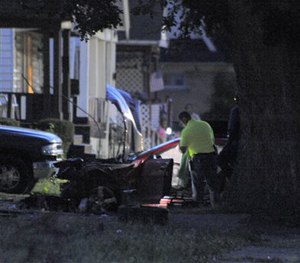 A 6-year-old boy and his 3-year-old sister were pronounced dead at a nearby hospital. A 7-year-old remains in critical condition Thursday. Two other children, ages 5 and 3, were stable, as was a 23-year-old woman who also was hit.
Police identified the Camaro's driver as a 29-year-old parole absconder convicted of drug possession. He and his 26-year-old passenger were arrested at the scene of the crash. The passenger suffered a possible broken arm and a broken hip.
On Wednesday, Chief James Craig called the deaths resulting from the chase "tragic." He told reporters Thursday that the department also is looking into whether the officers and supervisors followed policy.
The chase began about 7:30 p.m. when one of the officers reported seeing someone in the Camaro with a handgun.
"The information I have right now is that the suspects in the car made eye contact with the officer," Craig said. "The one officer saw a weapon ... at the same time the suspect took off at a high rate of speed."
Lights and sirens on the squad car were activated, he added. Three officers were in the car.
Craig said a supervisor reported making several attempts to verbally stop the pursuit, but it's not clear if the orders were heard over police radio traffic.
Craig said Wednesday that officers lost sight of the Chevrolet Camaro before it crashed into a porch. It was not immediately known how fast the police car was traveling.
"It was a short distance. A short amount of time," Craig said. "The officer reported seeing a weapon which constitutes a felony. Officers can pursue for a weapons offense.
"However, you still have to balance public safety, road conditions, time of day," he said. "We have not gotten to the point where I can tell you definitively that there was a violation of department policy. We may look at it in the end and say that there was no violation."
The department manual states that "a vehicle pursuit has the same potential for serious injury or death as the use of fatal force" and that "the decision to terminate a pursuit may be the wisest course of action."
All the children were hit after the Camaro jumped a curb and continued along sidewalks.
One activist group called Thursday for an end to pursuits in residential areas.
"Two children of Detroit are dead in a police initiated chase that did not have to begin if Detroit had a humane chase protocol in place," said Sam Riddle, political director for the Michigan National Action Network.
"No shots being fired. No evidence of a violent felony taking place. Nothing but the word of officers saying they saw a gun."
Copyright 2015 The Associated Press
Copyright Associated Press. All rights reserved. This material may not be published, broadcast, rewritten, or redistributed.