She survived father's attack as an infant. 43 years later, she wasn't so lucky, charges say
Baltimore Police have again arrested Dominique Foster's father, Lawrence Banks, and this time they've charged him with her murder
---
By Jessica Anderson
The Baltimore Sun
BALTIMORE — When Dominique Foster was just 7-months-old, her father threw her through a glass door.
Now, more than four decades later, Baltimore Police have again arrested her father, Lawrence Banks, and this time they've charged him with her murder.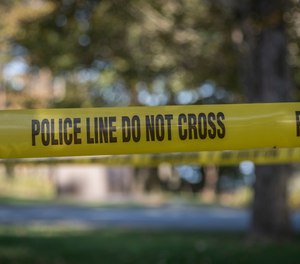 Foster, a 43-year-old mother of six, was discovered on May 12, her dismembered body hidden in garbage outside a dumpster in Northwest Baltimore. Her head, hands, feet, and lower legs were all missing and have not been recovered, police said. She was identified only after the department released photos of her tattoos that were later recognized by family members.
Banks remains at the city jail, where he has been since being charged with illegally possessing a firearm and ammunition in late May. During a search of his apartment on May 29, police found blood and a gun. They didn't charge him with the killing then, but the police documents hinted that more charges would come.
The murder charges have brought relief to family members, who say they feared Banks, now 65. He was previously convicted of killing his son and a friend, and has been questioned in other family members' deaths over the last 40 years. They say they long-predicted Foster's grim fate.
"Dominique knew if she left this world, it would be by her dad," her husband, Willie Foster said this week.
Banks killed his 17-year old son back in 1991. That same day, he gunned down a friend, but served only a decade in prison after being awarded "good time credits," court records show.
It's unclear what evidence police might have recently recovered that prompted the new murder charges against Banks, though court documents in the firearms case show investigators had suspected Banks since the May 29 search of his apartment.
Those documents detailed their investigation into Foster's death. They said officers interviewed a neighbor who heard some arguing on the night of May 10. A security camera video from that day obtained by police showed a man with a limp in a white jacket and hoodie wheeling a shopping cart toward the lot where Foster was found.
"The team of detectives that worked on this case were simply relentless. There's no substitute for solid detective work, which is exactly what led to an arrest," Homicide Major Christopher Jones said in a statement.
The department declined to discuss the case further. The statement of probable cause was not yet publicly available. He did not have an attorney listed in online court records.
Willie Foster called Banks a "monster" who long traumatized his wife. He said he and Dominique had been married 19 years but his wife kept her family away from Banks. Foster and his wife moved to North Caroline about 15 years ago but in the past year she moved to Baltimore to live with her sister.
In recent months, Willie Foster said his wife began to reconnect with her father even though she kept her family at a distance from him after being abused by him as a child.
According to Foster and court records, Dominique Foster had been abused physically and sexually by her father. In the gun case, Baltimore Police homicide detectives said Banks had a sexual relationship with his daughter.
Police said Foster had been staying with Banks at his apartment at 4001 Clarks Lane in the Glen neighborhood, around the corner from where her body was found.
At a bail review hearing last month in the gun case, he attempted to tell the district court judge that the gun was not his. A public defender argued for leniency on his behalf and told the judge that Banks is a father of six with a master's degree from Towson University. But Sean Welsh, a university spokesman, said they had no record of Banks was ever a student there.
Banks was also described as a member of the Mount Moriah Baptist Church in Northwest Baltimore, but Leroy Davis, a trustee at the church on Garrison Boulevard, said the church had no record of a member by that name. Other members say they had no recollection of him attending services.
He was also reportedly a volunteer at The Baltimore Station, a shelter for veterans, but the group did not return a messages seeking comment Friday.
Banks has had a history of violence and deception, according to court documents detailed in a 2007 Baltimore Sun story that included court files, police reports and other documents.
"He is not at all the person that he presents himself to be. He lies smoothly and talks smoothly. He is quite skilled at misrepresenting himself," a pre-sentencing investigator wrote in 1976 after the assault of his infant daughter.
Banks told the investigator he liked to read and travel. He admitted to a temper but told the instigator, "I have a pretty good personality" but that he didn't like violence.
But court records show a history of violent charges.
Dominique Foster was just a baby when a few days after Christmas 1975, Banks was drunk and got into an argument with his then-wife Vivian Banks, at his mother's house in East Baltimore, according to The Sun story. He threatened he was "going to do something to this baby you'll both regret," and then the women heard a loud crash.
Vivian Banks then rushed her young daughter to the hospital where she received two dozen stitches on her head, the report said. One of Dominique Foster's daughters who did not want to be identified by name, citing safety concerns, said the baby was her mother.
Banks was charged with assault in that case. But while he was on bail awaiting trial, police found the body of his wife Vivian Banks in a closet of an East Baltimore apartment she had been renting. He had previously be charged with assault and intent to murder Vivian Banks after police said he held an 8-inch steak knife to her throat, but she successfully asked that the charges be dropped against him.
The Sun story said court documents in several criminal proceedings against Banks show that detectives believed he had killed his wife. But because her body had been badly decomposing, the medical examiner could not determine a cause of death.
Banks was sentenced to 15 years for the assault against his baby daughter. He was released in 1988.
Then, in 1991, prosecutors said Banks had been drinking with two friends in Pasadena when he shot and killed one, Michael Chisholm. That same day, prosecutors said he drove to Baltimore and shot and killed his 17-year old son, Lawrence Jr., at his foster home on Northern Parkway.
Police said at the time that Banks killed his son because he was angry that the son and daughter, Dominique Foster, had told child abuse detectives that her father had meant to kill her, the Sun story said. The children had reported to detectives that their father had raped Foster while he was drunk.
The story also cited a police report where Dominique Foster told investigators her father came to her school and "had threatened her occasionally with meeting the same fate as her mother."
Banks later pleaded guilty to Chisholm's murder and no contest to his son's murder. He received a 20-year concurrent sentence.
After being released in 2002, Banks changed his name to Malik Samartaney, remarried and moved to Laurel. His new wife filed three protective orders against him, and in 2004 Banks was charged with assault in Anne Arundel County for choking and threatening to kill his then wife.
According to court documents in that case, Banks told his then-wife, "I must kill you." He then held a knife to her throat and threatened to dump her body in the Patuxent River, according to the Sun story citing the documents.
He spent nine months in jail awaiting trial and then was found not guilty by a jury.
By 2006, Banks separated from his wife and moved in with another woman and her daughter, Lisa Laverne Brown, 22 and Brown's daughter Labria. On Dec. 12, 2006, police said Brown and her daughter were fatally shot.
Prince George's County police questioned Banks, and asked Banks' parole agent to find violations that could keep him behind bars as they built a case.
He was never charged and the cases remain open.
©2019 The Baltimore Sun
McClatchy-Tribune News Service