Actor donates dog wheelchair to retired Philly K-9
Actor Trevor Donovan donated a wheelchair to the now-retired officer after hearing the K-9 was losing use of his legs
---
By Stephanie Farr
The Philadelphia Inquirer
PHILADELPHIA — Hairy, handsome, and brave, Philadelphia Police Department K-9 Thor served the department for five years alongside his partner, Officer Alvin Outlaw, sniffing out drugs and sending out ruminations on Twitter, where at one time he was the second-most-followed officer in the department.
But while time has been good to Outlaw, who was promoted to sergeant in West Philly's 19th District in November, it has not been as good to Thor, who is quickly losing the use of his hind legs.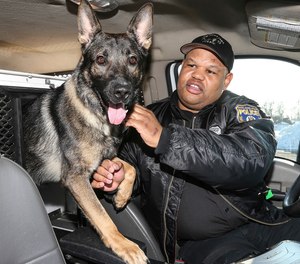 Soon, though, Thor will be getting a new lease on life thanks to a wheely great donation by actor Trevor Donovan, who, after hearing the German shepherd's tale, offered to donate a doggie wheelchair to the now-retired officer. News of the donation was first reported by celebrity website TMZ.
"Thor doesn't know how to stay out of the limelight," Outlaw said. "His stardom follows him everywhere, even in retirement."
In 2013, after 960 hours of training, Outlaw and Thor officially became partners in the K-9 Unit. Thor also quickly became a part of Outlaw's family, joining his wife, Shirena; their two kids; and their Shih Tzu, Bandit, in the family's home.
About a year and a half later, Outlaw took on a second K-9 partner, Storm, a German shepherd cadaver dog who, in 2017, helped uncover the buried bodies of three of the four young men killed in Bucks County by Cosmo DiNardo. Storm also quickly became a member of the Outlaw family.
When Outlaw passed his promotion test and was being transferred into the 19th District, he asked to adopt both of his fuzzy partners and was given the department's blessing. The dogs were officially retired from the force on Dec. 1.
Around that time, Outlaw and his wife began to notice that Thor, now 7, was losing the use of his hind legs. He was diagnosed with intervertebral disc disease, which caused a ruptured disc and a nerve pinch that made his legs go numb.
"It's been progressing and progressing," Outlaw said. "He can still walk but he stumbles and the thing we're dealing with now is that he drags his back legs when he does walk so he gets sores and scratches on his feet."
Thor went to therapy and surgery was suggested, but success isn't guaranteed and Thor lost his health insurance with the department when he retired.
It's been heartbreaking for the Outlaws to watch their family member's body degenerate while his spirit is still fully intact.
"Mentally, he's still the same," Outlaw said. "That's part of the problem, because one of the things he loved was playing with our other dogs. Now we let him out and he goes to run and he's just dragging his feet behind him."
One day, Shirena Outlaw saw Donovan — who starred in the reboot of 90210 and several TV holiday movies like Snow Globe Christmas — on TMZ Live talking about the loss of his own German shepherd, Dogbert. Donovan said his dog, which also had a degenerative disease, used a wheelchair and he'd like to find another good dog to benefit from it.
Shirena wrote an email to Donovan about Thor and among the throng of requests he received, Donovan chose the retired four-legged cop, noting that Shirena's letter had "won over my heart."
Outlaw said Donovan has decided to buy Thor a brand-new wheelchair instead of donating the used one.
While it hasn't arrived yet, Outlaw said he was moved that someone from the 90210 wanted to help someone who responded to calls from 911.
"I was very happy to see that somebody was willing to make that kind of purchase for us just by hearing the story," he said.
———
©2019 Philly.com
McClatchy-Tribune News Service