NY K-9 makes heroin bust first day on duty
K-9 Ozzie had graduated from a K-9 police school just one day before sniffing out heroin in a vehicle
---
By Joe Mahoney
The Daily Star
WALTON VILLAGE, N.Y. — Ozzie, Delaware County's new drug-detecting German shepherd, earned his keep on the first day on the job by leading lawmen to two packets of heroin secreted in a car in Walton, authorities said Friday.
If it wasn't for Ozzie's nose for illicit substances, the addicting powder probably would have gone undetected after police pulled over a car with three people in it, Delaware Undersheriff Craig DuMond said.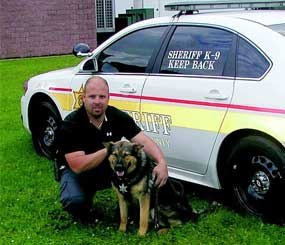 With Ozzie and his handler, Deputy John Demeo, getting the key assist, Walton Village Police arrested the car's three occupants — Troy Terney, 22, Melissa Dacey, 21, and Anthony Palladino, 24, all of Walton — and charged them with possessing heroin, marijuana and drug paraphernalia. All three were issued appearance tickets directing them to appear in Walton Villager Court at a later date
Just one day before making his first bust, Ozzie had graduated from a K-9 police school run by the Syracuse Police Department, the undersheriff said.
"Ozzie was reported to be one of the strongest dogs in his class," he said. "He has an excellent disposition, a real drive to do his job and we're really happy with the performance of the dog so far."
DuMond said the Sunday encounter came amid what appears to be a steady rise in unlawful drug activity in the rural county, a problem that he says has been exacerbated by the slow economy and the easy availability of narcotics.
"The problem is definitely here, and it's expanding and getting worse," DuMond said. "This dog is going to be an important tool in helping us to address the problem."
He said it cost the Sheriff's Department about $12,000 to launch the new K-9 unit, with all of those funds recouped though donations from local residents and companies.
The pure-bred K-9 cop was born in Czechoslovakia "and has very strong German shepherd lines," DuMond said. "He is specially bred for this type of work."
The pooch is named for the county's first law enforcement officer killed in the line of duty, Osborn Steele, an undersheriff who was fatally shot in 1845 during the rent wars in Andes. DuMond thanked Chenango Sheriff Ernest Cutting Jr. and his agency for offering guidance to the Delaware County Sheriff's Department during the dog selection and program's implementation.
Prompted by a spate of bomb scares at local schools, the Sheriff's Department is now contemplating expanding the fledgling K-9 unit next year by adding a bomb-detecting dog, he noted.
Copyright 2013 The Daily Star
McClatchy-Tribune News Service