Videos: Police release more body-cam footage from Vegas mass shooting
The release comes more than a week after police ended their investigation with no motive found
---
By Associated Press
LAS VEGAS — Police have released 15 more officer body-camera videos from the Oct. 1 shooting that killed 58 people and injured more than 800 on the Las Vegas Strip.
The public records released Wednesday come after Sheriff Joe Lombardo said Aug. 3 that the police investigation has ended with no motive found for the deadliest mass shooting in modern U.S. history.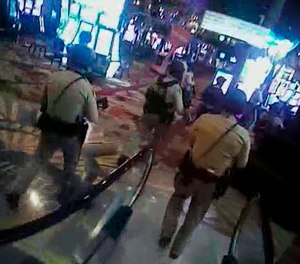 An FBI final report is expected by the end of the year.
Both agencies have said they're confident that gunman Stephen Paddock was the only shooter and that the attack did not involve a broader conspiracy.
Officers are seen in the more than nine hours of new body-camera footage inside the Route 91 Harvest Festival concert venue and at the Mandalay Bay resort, where Paddock fired assault-style weapons from 32nd-floor windows.
Copyright Associated Press. All rights reserved. This material may not be published, broadcast, rewritten, or redistributed.