Toronto attack highlights issue of using deadly force against deadly vehicles
We need to consider policies that address prevention of mass murder as a possible reason an officer might open fire on a moving vehicle
---
After driving a rented cargo van onto a crowded sidewalk on April 23, killing 10 people and injuring 15 others, Alek Minassian was arrested by Toronto police.
Minassian got out of the van and confronted police by pointing a black object in his hand as if it were a gun. Video of the arrest shows the officer walking toward the suspect ordering him to get down multiple times. The suspect yells at the officer to kill him, repeatedly using the object in his hand to simulate a gun draw and yelling that he had a gun in his pocket.  The officer then got Minassian on the ground and applied handcuffs.
Restraint vs. deadly force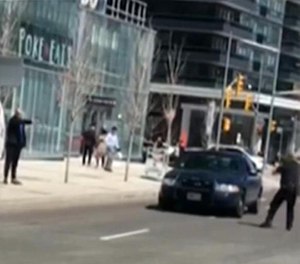 The officer has been lauded for his restraint for not shooting. Law enforcement observers will question his decision, hoping that the officer was certain that the object in Minassian's hand was harmless when making the decision not to defend himself and the surrounding public by using deadly force.
Civilian observers might wipe their brow and confess that had they been in the officer's shoes they surely would have shot the killer. These same civilians may have been outraged the last time they read about an officer shooting a person who pointed a cell phone threateningly.
A survey of the public asking if police officers should be authorized to use deadly force to stop a terrorist attacking a crowd with a truck would likely find support for law enforcement in that case. That same public might be surprised that an increasing number of law enforcement agencies have established very restrictive policies on shooting moving vehicles.
Evolving police policies
The most common arguments for prohibiting shooting at vehicles are that:
Shooting a driver doesn't mean that the car stops moving;
An officer shouldn't claim self defense when all they need to do is jump out of the way. Other arguments include the possibility of innocent persons in the car behind hit by gunfire and the danger of ricochet.
But most of those policies are in anticipation of a police officer being threatened by a speeding car or trying to stop a fleeing vehicle to keep a criminal from escaping. Those policies now need to consider prevention of mass murder as a possible reason an officer might open fire on a moving vehicle.
For law enforcement, differentiating between a lone wolf terrorist plowing into a crowd and the elderly stroke victim doing the same thing is problematic. Taking shots at the ISIS-inspired killer would be heroic, but shattering grandma's windshield would never seem justified no matter how many baby carriages were in the way.
And there is no doubt that assassination of police officers by vehicle assault could become a trend. What better use of a stolen vehicle than to be both the weapon and the method of escape?
Deadly force used on a driver of a speeding vehicle with defenseless pedestrians in its path would surely be justifiable at the end of our analysis. While it is true that a vehicle with a dead or disabled person behind the wheel would still move forward, any subsequent impact would be mitigated by the reduced speed. In addition, there would be no one to steer around an object solid enough to stop the vehicle's movement or to intentionally steer toward human targets.
The old pursuit-stopping, 12-gauge shotgun slug might need to be part of the arsenal of officers assigned to protect large gatherings in addition to the patrol rifles now commonly deployed. Pre-planning for events must now include vehicle barriers, and not the flimsy ones used for guiding traffic, but the concrete or steel ones that stop trucks. Urban planners should be sketching in bollards and massive decorative pots to become a standard part of sidewalk construction for pedestrian safety.
Rethinking response to vehicle attacks
Just as we had to have training and policy to deal with suicide bombers in suspected explosive vests, those who make policies on deadly force and those who train on the subject must be thinking about responses to murders in vehicles. And to complicate matters, a terrorist attacking in a vehicle might just get out wearing a suicide bomber vest.