BART officer Mehserle due for early release
Mehserle will be set free after serving 11 months of a two-year sentence for involuntary manslaughter
---
By Paul T. Rosynsky
Oakland Tribune
OAKLAND, Calif. - A year after facing a lifetime in prison for killing an unarmed BART passenger, former transit police Officer Johannes Mehserle will be released from jail in a couple of weeks.
With credits for time served and the leniency of a Los Angeles County judge, Mehserle will be set free after serving 11 months of a two-year sentence issued after the 29-year-old was found guilty of involuntary manslaughter in the killing of Hayward resident Oscar Grant III.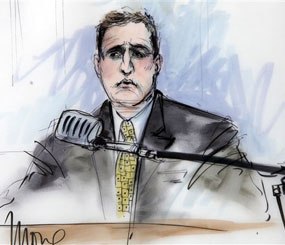 Mehserle's release from Los Angeles County Men's Central Jail, most likely in the middle of June, should not come as a surprise because the date was determined when Los Angeles Superior Court Judge Robert Perry declined last year to issue a harsher penalty.
For Mehserle, being freed from jail offers a chance to begin anew but not in the profession he had chosen when he became a BART police officer more than three years ago. And while Mehserle's release closes a chapter in the highly publicized saga, the story of Grant's death and its implications will continue for years as both a federal civil suit and an appeal of Mehserle's conviction remain active in the courts