Former Dallas cop convicted of neighbor's murder gets hugs, Bible after trial
The victim's brother and judge both hugged her, urged her to seek God's forgiveness
---
Jake Bleiberg
Associated Press
DALLAS — A white Dallas police officer who killed an unarmed black neighbor in his own living room drew 10 years in prison in a stunning courtroom scene of forgiveness and compassion in which she received a hug not just from the dead man's brother but from the judge who imposed the sentence.
Guyger, 31, was convicted Tuesday of murder for a killing she said took place when she mistook Jean's apartment for her own. Jean's brother, Brandt Jean, addressed the former officer directly from the witness stand, saying that his brother would have wanted her to turn her life over to Christ, and that if she asks God for forgiveness, she will get it.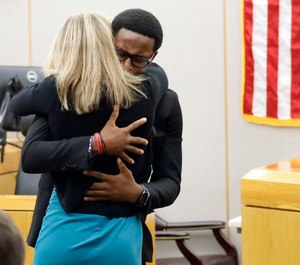 "I love you as a person. I don't wish anything bad on you," he said before asking the judge, "I don't know if this is possible, but can I give her a hug?"
The judge said OK, and Brandt and Guyger stood up, met in front of the bench and embraced while Guyger cried.
The judge also came down off the bench and hugged a sobbing Guyger before she was led from the courtroom. In addition, the judge opened a Bible to a certain passage and gave it to her. A black bailiff in the courtroom patted the defendant's hair.
The jury, made up largely of women and people of color, could have sentenced her to up to life in prison or as little as two years. Prosecutors had asked for 28 years, which is how old Jean would have been if he were still alive.
She will be eligible for parole in five years.
District Attorney John Creuzot called Brandt's embrace of Guyger "an amazing act of healing and forgiveness that is rare in today's society ... especially for many of our leaders."
If Jean's 18-year-old brother "can heal and express healing in that fashion, in his words and in his deeds, I would hope that the greater community, not just Dallas but all of Texas and all of the United States, could gain a message from that," he said.
Mayor Eric Johnson issued a statement saying he would "never, ever forget the incredible examples of love, faith and strength personified by Botham, Brandt and the entire Jean family."
On the night of the shooting, Guyger, returning from a long shift, parked on the wrong floor and, she said, mistook Jean's apartment for her own, which was directly below his. He was eating ice cream at the time. She said she thought he was burglar and opened fire.
Prosecutors questioned how she could have missed numerous signs that she was in the wrong place. They also asked why she did not call for backup and suggested she was distracted by sexually explicit messages she had been exchanging with her police partner, who was also her lover.
Copyright Associated Press. All rights reserved. This material may not be published, broadcast, rewritten, or redistributed.