Judge: Man on death row for killing 2 cops can't be executed
Cop killer cannot be executed because he meets the legal standard to be considered intellectually disabled
---
By Michael Balsamo
Associated Press
NEW YORK — A man on death row for killing two undercover New York City police officers cannot be executed because he meets the legal standard to be considered intellectually disabled, a federal judge ruled Tuesday.
In his 76-page decision, U.S. District Court Judge Nicholas Garaufis vacated Ronell Wilson's death sentence and imposed a new punishment of life in prison.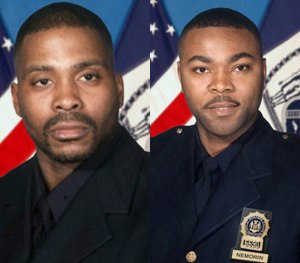 "In reaching this decision, the court in no way minimizes or excuses the cruelty and depravity of Wilson's action," Garaufis wrote. "Having presided over this tragic case for more than a decade, the court quite frankly finds it impossible to muster any sense of sympathy for this defendant."
But the judge said Wilson, who had a history of severe behavioral problems dating back to childhood, had "significant deficits in adaptive functioning" that made him ineligible for the death penalty under new standards established by the U.S. Supreme Court.
"To be candid, the court harbors doubts as to whether Wilson would be considered intellectually disabled by most clinicians," the judge wrote. But, he said, the Supreme Court's decision "strongly suggests" the legal standard is more protective than the clinical standard.
Wilson, 33, was a young gang member on Staten Island in 2003 when he murdered undercover detectives James Nemorin and Rodney Andrews in an illegal gun sting gone awry. The officers were shot point-blank in the backs of their heads.
A jury sentenced Wilson to die by lethal injection, making him the first federal defendant to receive a death sentence in New York City since the 1950s. An appeals court threw out the sentence in 2010 because of an error in jury instructions, but a second jury re-sentenced him to death in 2013. Wilson has been on death row at a federal prison in Terre Haute, Indiana.
At one point, Garaufis had ruled that Wilson's IQ scores seemed to show he had sufficient intellectual functioning. But in 2014 the U.S. Supreme Court ruled that a judge could not rely solely on a person's IQ to determine intellectual disability. An appeals court ordered Garaufis to take another look at Wilson's case.
When he was a child, Wilson's teachers compared him to "an older person with dementia," according to court records.
In elementary school he bit teachers, broke furniture, banged his head against a wall, tried to jump out the window and was repeatedly hospitalized for emergency psychiatric treatment. At one point, he was diagnosed with "moderate mental retardation."
Psychiatrists noted that he sucked his thumb and stroked his ear during their examinations in middle school. At age 12, officials said he was functioning at the intellectual level of a third-grader.
A spokeswoman for the U.S. attorney's office in Brooklyn declined to comment on the judge's ruling.
Last week, police held a memorial service marking the 13th anniversary of the detectives' deaths.
Michael Palladino, the president of the New York City Detectives Endowment Association, called the ruling disappointing and said it means "justice was denied" for the slain detectives' relatives.
"An awful lot of calculated thought went into Wilson's cold-blooded actions, as well as his attempts to avoid capture," he said. "That hardly spells out 'mental incapacity.'"
While Wilson was incarcerated in New York City in 2012, he impregnated a guard at a federal lockup. Their child, Justus, was born shortly after the guard, Nancy Gonzalez, was arrested. She was sentenced in 2014 to serve one year and one day in prison for the relationship.
Copyright 2016 The Associated Press
Copyright Associated Press. All rights reserved. This material may not be published, broadcast, rewritten, or redistributed.