Man found guilty in 2017 Pa. rookie officer's killing
Officer Brian Shaw was shot and killed during a traffic stop by the vehicle's passenger, who was attempting to flee
---
Brian C. Rittmeyer
The Valley News-Dispatch
WESTMORELAND COUNTY, Pa. — A Westmoreland County jury found Rahmael Holt guilty on all counts of killing New Kensington police Officer Brian Shaw following an attempted traffic stop two years ago.
The jury reached its verdict in less than 90 minutes after closing arguments Tuesday.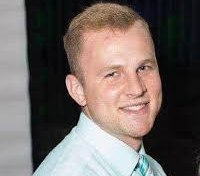 "A verdict like this doesn't bring Brian back, but it gives a sense of relief in knowing the person that did this to him is going to be in his rightful place and not out on the street where he can hurt someone else," said former New Kensington police chief Jim Klein, who headed the city's department when Shaw was killed on Nov. 17, 2017.
Klein and other police officers from New Kensington, as well as Shaw's parents and brother, were in the courtroom every day of the six-day trial. As the verdict was read, several in the courtroom, including Shaw's parents and brother and law enforcement officers, could be seen crying.
Shaw's family declined to comment. His brother, Steffan Shaw, said he would comment for the family following sentencing, which scheduled to begin at 10 a.m. Wednesday. The same jury that found him guilty will be tasked with deciding whether Holt spends the rest of his life in prison or is sentenced to death.
Holt shot and killed Shaw as he ran from an SUV Shaw tried to stop on Leishman Avenue. Holt was a passenger in the vehicle driven by Tavon Harper, who testified he sold cocaine and marijuana to Holt that day.
Harper also is in the Westmoreland County Prison on drug and parole violation charges.
Tyler Singer, who met Shaw during an instructional camp for high school football kickers, said, upon learning of the verdict, that he was happy for Shaw's family.
"I have seen them at fundraisers and memorials for Brian," said Singer, 27, a doctoral student at Kent State University in Ohio. "I know they needed some type of closure. I'm glad they got it."
Another friend, Merle Bouchat, 30, of Tarentum, said Tuesday wasn't a happy day.
"None of it makes anything better," he said. "I hope it provides as much closure as possible to the family. But I don't know if that's going to be the case."
The jury found Holt guilty of first-degree murder, first-degree murder of a law enforcement officer and two firearms violations.
Klein said he never had any doubt Holt was the killer. He recalled a press conference he held in the wake of Shaw's death, in which he vowed that the person who did it would be held accountable.
Looking forward to sentencing, Klein said, "I want him to be held accountable."
Holt showed no emotion as he was led out of the courtroom in handcuffs.
"We all prayed that justice would be swift and justice would prevail," said Terry Kuhns, chief of police in Frazer, where Shaw had worked part-time. "Today, justice prevailed."
During closing arguments, Westmoreland County District Attorney John Peck painted Holt as a cowardly, cold-blooded and remorseless killer who ran and hid after killing Shaw.
"All his efforts were to get away, to escape, to avoid detection, to avoid apprehension," Peck said. "He's running for his life."
Peck declined to comment after the verdict.
Tim Dawson, Holt's lead court-appointed defense attorney, said he thought the verdict was quick.
"It was a highly emotional case and I hope the Shaw family can find some closure," Dawson said.
Dawson said the defense will call up to 10 witnesses during the penalty phase of the trial, in which they will seek a sentence of life without parole. Holt could testify to directly ask jurors to spare his life.
Prosecutors will need to prove at least one aggravating circumstance to secure a death sentence — in this case, that Holt shot and killed a police officer in the line of duty, said Bruce Antkowiak, a former federal prosecutor who chairs the criminology department at Saint Vincent College.
Defense attorneys could focus on mitigating factors such as Holt's mental condition, educational development and home life as reasons why they think the death penalty isn't appropriate.
If jurors don't unanimously agree that Holt should be sentenced to death, he will get life in prison without the possibility of parole.
Peck rested the prosecution's case earlier in the day. Klein, the last witness to testify on Friday, read the oath of office that Shaw took four and a half months before he was gunned down.
Holt chose not to testify and his attorneys called no witnesses.
"We felt it was in the best interest of our client to not put on any evidence, to hold the commonwealth to their burden and that didn't go so well," Dawson said.
In his closing, Dawson questioned if there had been a rush to judgment in charging Holt and if there could have been another shooter as officers sought justice in the death of one of their own.
"What motive would our client have to kill a police officer at a traffic stop on a stop sign violation where he's a passenger?" Dawson told the jury. "He has no motive to kill anyone."
Dawson attempted to call into question the credibility of several prosecution witnesses, most notably Harper, who he called the star witness and said was desperate to avoid going back to prison.
Holt maintained his innocence throughout the trial. Dawson noted that Holt had not confessed to committing the crime and there were no eyewitnesses. There was no DNA or fingerprints placing him at the scene.
While a home across from the shooting scene had a surveillance camera, Dawson said the images it captured were not clear enough to identify Holt as the man Shaw was chasing on foot. Peck also said the video only showed Shaw pursuing a man who appeared to be black.
There was no camera in Shaw's police car and he was not wearing a body camera.
The murder weapon, a .40-caliber semiautomatic, was never found.
"Evidently the jury was more than convinced that, despite the lack of the murder weapon particularly, there was sufficient evidence to tie the defendant to the shooting," Antkowiak said.
Peck said in closing that Holt hid the gun in the basement of a house he frequented nearby on Victoria Avenue, and that Lisa Harrington, Holt's cousin, took it from the basement the day after the shooting.
"We know we'll never find that gun," Peck said in his closing. "That's his gun. That's the gun he used to kill Officer Shaw."
McClatchy-Tribune News Service