No indictment for NC cop who shot unarmed man
The grand jury declined to indict Officer Randall Kerrick for voluntary manslaughter and asked for a lesser charge
---
By Michael Gordon
The Charlotte Observer
CHARLOTTE, N.C. — In a rare and unexpected move, a grand jury declined to indict Charlotte-Mecklenburg Police Officer Randall Kerrick for voluntary manslaughter Tuesday, instead asking prosecutors to submit a lesser charge.
The defense claimed victory. The attorney general said his office planned to bring the charges against Kerrick back before the grand jury because some members of Tuesday's panel were missing.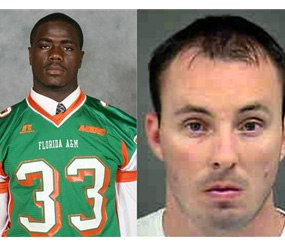 The number of absences and whether they had anything to do with the Kerrick case are not known. What is clear is that enough grand jury members felt the evidence presented against Kerrick did not support the manslaughter charge.
And they said so in writing.
"We the Grand Jury respectfully request that the district attorney submit a bill of indictment to a lesser-included or related offense," the jury's foreperson said in a hand-written note released by the clerk of court's office late in the afternoon.
Kerrick was charged in connection with the Sept. 14 shooting death of 24-year-old Jonathan Ferrell, who was unarmed at the time. The former Florida A&M football player was struck 10 times.
Kerrick, who had three years of experience at the time, fired 12 shots with his Smith&Wesson .40-caliber, semi-automatic pistol, all from a few feet away, police said. If convicted of the manslaughter charge, the 28-year-old faced a prison sentence of three to 11 years.
The reaction to the grand jury's decision not to indict him varied from celebration and relief to anger and confusion.
In a prepared statement after the grand jury's decision became public, Attorney General Roy Cooper said the case is not closed.
Citing the missing grand jury members, Cooper said, "It would be in the best interest of justice to resubmit this case to a full grand jury, which we plan to do as soon as possible."
The statement did not mention a specific date. The attorney general's office took over the Kerrick case at the request of Mecklenburg District Attorney Andrew Murray, a former law partner with Kerrick's defense team.
Cooper's spokeswoman, Noelle Talley, declined to say whether prosecutors would refile the original voluntary manslaughter charge or replace it with some lesser offense.
However, Talley did confirm that state prosecutors were surprised that some grand jury members were not on hand. A minimum of 12 is required to conduct business, and Tuesday's grand jury issued indictments in other cases.
Talley did not respond to a question on how many jurors heard the evidence surrounding Ferrell's death. Normally, the grand jury has 18 members; 12 votes are needed for an indictment.
Kerrick, who has been on unpaid suspension since his arrest, "feels like the weight of the world has been lifted from his shoulders," said his defense attorney, George Laughrun of Charlotte.
"He's extremely relieved that the grand jury members saw fit to keep an open mind and not listen to all the propaganda on all the things he did wrong," Laughrun said.
"What they decided ... was that Officer Randall Kerrick did his job. Regretfully, it cost the life of Jonathan Ferrell. But he did his job."
Steve Ward, a retired prosecutor who worked for 25 years under former District Attorney Peter Gilchrist, said he's never heard of a grand jury requesting a lesser charge.
Grand juries meet in private. Attorneys on either side are not permitted to attend. In the Kerrick case, the evidence was presented by Charlotte-Mecklenburg police investigator Edwin Morales and Scott Williams of the State Bureau of Investigation.
The fact that the jury chose not to indict is extremely rare, Ward said. Of the thousands of cases his office sent to a grand jury every year, only a few came back without indictments, he said.
"I'm talking about less than 10 a year."
'What was omitted?'
​Ferrell moved to Charlotte about a year before his death to be with his fiancee. On the night of the shooting, Ferrell had given a friend a ride home after work, but had wrecked his car and was apparently seeking help.
Kerrick was one of three officers responding to a 2 a.m. 911 call from a resident frightened by a late-night stranger pounding on her door.
A 15-second video shot from one of the police cars in the moments before the shooting appears to have been pivotal in Kerrick's arrest. It has not been made public.
After watching the footage, Police Chief Rodney Monroe and his top commanders decided to file charges against one of their own. CMPD investigations into police shootings normally take weeks. This one took hours, and the speed of Kerrick's arrest caught many of his fellow officers as well as police groups around the country off guard.
Laughrun, though, said the video showed that Ferrell refused police orders to stop and that the shooting was justified.
Last week, Ferrell's family filed suit against Kerrick, Monroe, the police department, the city of Charlotte and Mecklenburg County.
Tuesday, Chris Chestnut, the family's attorney, called the grand jury's decision "highly suspicious and gravely concerning." He also questioned what the grand jury had heard or seen.
"What did the attorney general present to this grand jury and what was omitted?" Chestnut said. "Having seen the video, I cannot believe that the citizens of Charlotte could watch it and not indict. I question whether they were shown it."
Throughout the investigation, the family has been cut out of the process, Chestnut said.
"They have left us with the impression that they were doing nothing. There has been nothing to demonstrate that this case has gotten the attention it deserves and needs for the citizens of Charlotte and America," he said.
"It's that important a case. This feels like they don't value Jonathan's life."
At the outset, the shooting drew national attention. Noting that Kerrick is white and Ferrell was African-American, civil rights groups in Charlotte rallied and called for stiffer charges. Chestnut, in announcing last week's lawsuit, described the shooting as "cold-blooded murder" by a "rogue cop."
Tuesday, black officials expressed alarm with the grand jury's decision.
N.C. Rep. Rodney Moore, a Charlotte Democrat, said something was "clearly done wrong for an unarmed man to be shot continuously." He said CMPD needs more diversity training for officers and that Kerrick should be held accountable.
The Rev. Kojo Nantambu, president of the Charlotte's NAACP chapter, called the decision "the most despicable thing I've ever seen."
Sending a Message of Support
Ward, the former assistant district attorney, says it's not uncommon for a prosecutor to take a case back before the grand jury — either by submitting new evidence to the same grand jury or presenting the case to a second grand jury.
In Mecklenburg, Ward said, two grand juries are empaneled at a given time, and they serve on alternating weeks for six months. New grand juries will be selected in July.
North Carolina law allows the use of lethal force by police "only when it appears reasonably necessary ... to defend himself or a third person from what he reasonably believes to be the use or imminent use of deadly physical force."
One of the clarifying gauges: Would another "reasonable officer" in the same situation act the same way?
Of the three officers who responded to the 911 call on Sept. 14, only Kerrick, the least experienced, fired his gun.
After watching the police car video, Monroe said his officer used excessive force.
A decisive number of grand jury members, however, did not believe Kerrick's response amounted to voluntary manslaughter.
Laughrun called that decision a victory for all police.
"The citizens of Mecklenburg County have spoken," he said. "I think they sent a message to all law enforcement officers that they'll stand behind them when they use absolute force, when it is justified." Staff Researcher Maria David and staff writers Jim Morrill and Cleve Wootson Jr. contributed.
Copyright 2014 The Charlotte Observer
McClatchy-Tribune News Service