Rappers tell SCOTUS anti-cop lyrics aren't a real threat of violence
The artists are urging SCOTUS to take up the case of a rapper who was sentenced to prison after recording a song that threatened violence against two cops
---
By PoliceOne Staff
WASHINGTON — A group of hip hop artists are urging the Supreme Court to take up the case of a rapper who was sentenced to prison after recording a song that threatened violence against two cops.
According to The New York Times, hip hop artists Chance the Rapper, 21 Savage, Yo Gotti, Fat Joe, Meek Mill and Killer Mike are asking SCOTUS to consider the case of rapper Jamal Knox, who was convicted in 2014 of "terroristic threats and witness intimidation", among other separate charges, for his song entitled "F**k the Police."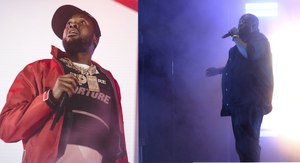 "A person unfamiliar with what today is the nation's most dominant musical genre or one who hears music through the auditory lens of older genres such as jazz, country or symphony," they wrote, "may mistakenly interpret a rap song as a true threat of violence."
The song included the names of two officers who had previously arrested Knox. The officers testified that the song, which included lyrics like "I'ma jam this rusty knife all in his guts and chop his feet" made them fearful and nervous. One of the officers cited the song as contributing to his decision to ultimately leave the force.  
The Pennsylvania state Supreme Court upheld the ruling last year.
In the majority opinion, Chief Justice Thomas G. Saylor wrote that the "rap song was of a different nature and quality" than those performed by other artists in the genre, and that the lyrics expressed hatred toward Pittsburg police and contained descriptions of killing officers.
"They do not include political, social or academic commentary, nor are they facially satirical or ironic," Saylor said.
In their brief, the rappers said the assertion of the Court reveals that it is "deeply unaware of popular music generally and rap music specifically."
Knox's lawyers wrote in a petition that they're seeking a review by SCOTUS. 
"The song's lyrics were never meant to be read as bare text on a page," the petition said. "Rather, the lyrics were meant to be heard, with music, melody, rhythm and emotion."
In an interview, rapper Killer Mike argued that the songs are works of poetry and not intended to be taken literally.
"I can tell you that the lyrics are dark and brutal when Johnny Cash describes shooting a man in Reno just to watch him die and when Ice Cube rapped about a drive-by shooting early in his career," he said.