Report questions role of TASERs in police-related deaths
Reuters calls the report the "largest accounting to date" of deadly incidents involving TASER deployment
---
By PoliceOne Staff
WASHINGTON — A new report from Reuters found TASERs were cited as a cause or contributing factor in 153 fatal police encounters.
In what the news agency calls the "largest accounting to date" of deadly incidents involving TASER deployment, 1,005 people died over the period of 1983-2017 in incidents that included use of the less-lethal device. In many of the cases Reuters tracked, TASERs were not the only form of force employed by police.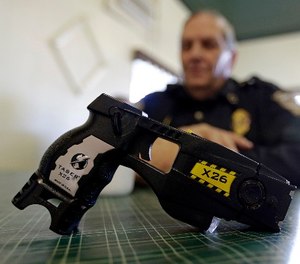 Autopsies were obtained for 712 of the 1,005 deaths. In 153 of those cases the ECW was named as a cause or contributing factor. Reuters admitted that most of the 153 autopsy reports had "multi-factorial" causes of death – listing several other elements as components in the ruling – making it impossible to know precisely what role the TASER played in many of the deaths. 
Steve Tuttle, Axon's vice president for communications, told Reuters that the numbers paint an exaggerated picture of the danger of TASERs, given that most of the tallied deaths also involved other forms of force.
While all law enforcement weapons carry risks, Tuttle told the news agency, TASERs are "the safest force option available to law enforcement."
According to Axon's numbers, a total of 24 people have died from TASER use, all from secondary injuries (such as a fall).
Most independent researchers say deaths are rare when the devices are properly used, although calculating the probability of a fatal shock may be impossible because of the many factors involved, according to the report.
In a response posted to Axon's website, the company said the device is the "most studied less-lethal weapon in the world," with over 700 reports documenting its safety. Over 23 years, TASERs have been deployed over 3 million times and have resulted in more than 187,662 lives saved, according to the company.
Citing, among other things, testimony in lawsuits against police departments and Axon, Reuters also suggests there is confusion among law enforcement agencies about how to properly use the weapon.
"TASER training and product safety warnings are strong and unambiguous," Tuttle told the news agency. "We do everything we can to ensure that our customers know how to safely operate our products. One purpose of our training and our warnings is to provide agencies with information and smart use guidelines to help them avoid excessive-use-of-force claims."
In an interview with PoliceOne, Tuttle said it's vital for police departments to hold regular training sessions on proper use of the device, and that the company continues to work to ensure departments are educated. (Full disclosure: Axon utilizes the PoliceOne Academy platform for department training and certification management)
"We believe recurring training, good policies and oversight are critical for successful TASER programs," Tuttle told PoliceOne. "We got into this business to save lives and we are doing that. It's a difficult business to be in – tragedy occurs and that's the awful part of it. That is what motivates us to continue to improve the technology and embrace training."
Axon also sent out a bulletin to police departments about the report, offering assistance to any PDs that have questions about the devices.