How much does a cop make?
Police salaries change based on location and cost of living
---
By PoliceOne Staff
So you've decided to enter the civil service and make a career out of protecting others.
Becoming a cop is a respectable job that you can be proud of, and it comes with a host of benefits unique to the profession. 
How much do cops get paid?
According to the Bureau of Labor Statistics, the average cop makes about $60,270 per year, or roughly $28.97 per hour. In comparison, the median American salary is about $43,000 per year.
The average cop's salary will vary greatly depending on their location in the country. According to the BLS data, nine of the ten highest-paying metropolitan areas are in California, where officers regularly make six figures and above.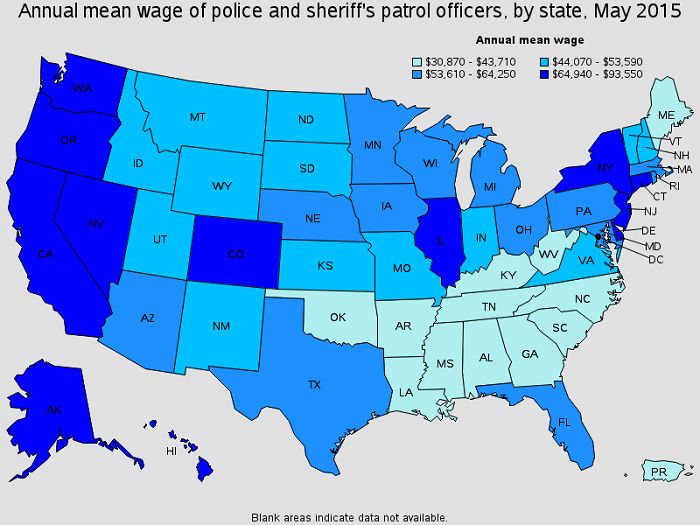 Police officer pay varies by state. (Photo/Bureau of Labor Statistics)
California police officers' high salaries may be offset by the state's notoriously high cost of living. Given the median price of a house in San Francisco is over $1 million, an $80K salary seems like just a drop in the bucket.On the other hand, cops working in the Midwest might be able to stretch their wages further despite making less on paper. Less crowded areas also tend to have lower crime rates.
PoliceOne has listed the best states for cops to work by comparing average wage with cost of living. Not surprisingly, Midwest locations like Idaho, Indiana, and Iowa were popular for their lower cost of living and above-average salaries.
A more general study of the top ten best places for first responders painted a favorable picture of the Pacific Northwest for its high salaries and moderate crime rates.
Salary by police rank
Police officer ranks are generally modeled after the military. Each additional rank demands more responsibility, but also comes with an increased salary.
A police officer with the City of Plano, TX will start off making about $63,757 a year. If they choose to remain a police officer, it will take 20 years to top out their salary at $83,727.
Should an officer be promoted to police sergeant, their salary will top out at $94,053 after a year of service.
These officers' pay increases all the way up to the city's two Asst. Police Chiefs, who make up to $139,857 per year.
What benefits do cops have?
Some benefits of being a cop include overtime wages, increased pay for certain assignments, the opportunity to work second jobs (usually in security) and paid vacation time. Police officers also pay less for health insurance and may be eligible for free health screenings.
Many police officers become eligible to retire and receive pension payments after 20 years of service with the force. The amount varies between cities, but is often based on your highest-earning years with the department.
In Massachusetts, for example, police officers receiving the maximum pension can receive up to 75% of their final salary while retired.
Cops receive some benefits from being municipal employees, and may be eligible to retire earlier than most. If you are able to handle the unique stressors of police work, it's possible to make a living on the pay and benefits that come with being a cop.