Fallen SC trooper's daughters use his badge, uniform in heartbreaking photo shoot
The trooper's widow and three young daughters participated in a photo shoot that not only honors him but shows what law enforcement officers — and their families — have to lose each time they head out on patrol
---
By Teddy Kulmala
The State
COLUMBIA, SC — Even though Trooper Daniel Rebman died early one morning last October after being hit on a South Carolina roadside, his widow considers 7 p.m. the night before the end of his watch. That was the last time she kissed him goodbye as he left for work.
Rebman's widow and three young daughters participated in a photo shoot that not only honors him but shows what law enforcement officers — and their families — have to lose each time they head out on patrol.
The 31-year-old S.C. Highway Patrol trooper was killed when his patrol car was hit from behind on the side of Interstate 385.
In a series of photos released at 7 p.m. Tuesday, the one-year anniversary of the last time Michelle Rebman kissed her husband goodbye, the couple's daughters are seen standing on a roadway in front of four of Rebman's fellow troopers, their heads bowed and hat brims barely concealing their stoic faces.
In the arms of 6-year-old Olivia is the American flag given to Rebman's widow at his funeral. Their middle daughter, 5-year-old Charlee, is holding the S.C. state flag given to their daughters. And 3-year-old Kennedy is holding a "daddy bear" made from Rebman's Highway Patrol uniform.
Another picture shows Michelle Rebman and her three daughters from the knees down, all wearing cowboy boots. Next to Michelle's feet is a pair of worn empty boots and a framed picture of the fallen trooper.
A police K-9 named after Rebman appears in some of the photos.
The post by Jennifer Davisson Photography had been shared more than 34,000 times as of Wednesday afternoon. Davisson asked people who liked the photos to post their city in the comments section.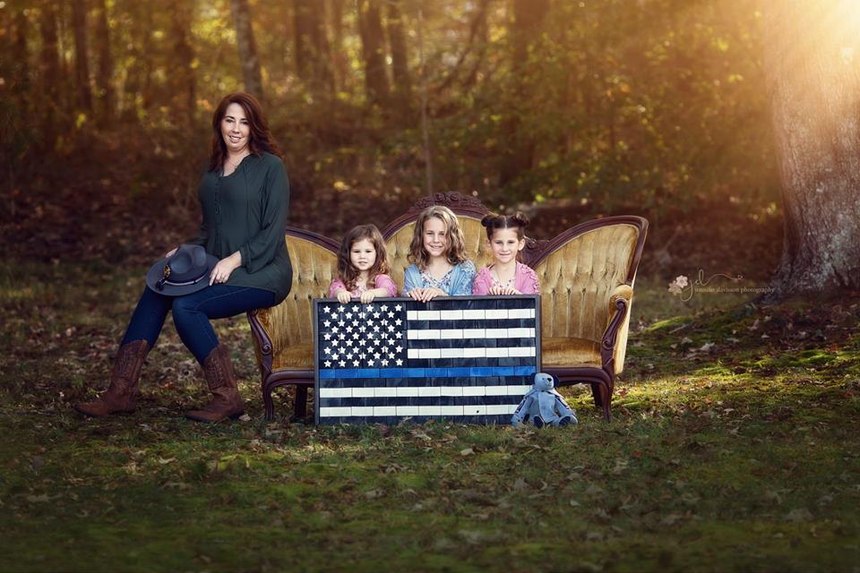 "I just wanted people to see what these troopers have to lose," Davisson told The State. "I wanted Michelle to see that it's not just our community that is praying and lifting her up right now. I wanted her to see that it's the entire world, and grief is a universal language."
So far, the photos have drawn comments from people in Japan, Israel, Canada, Mexico, Brazil and Taiwan, Davisson said.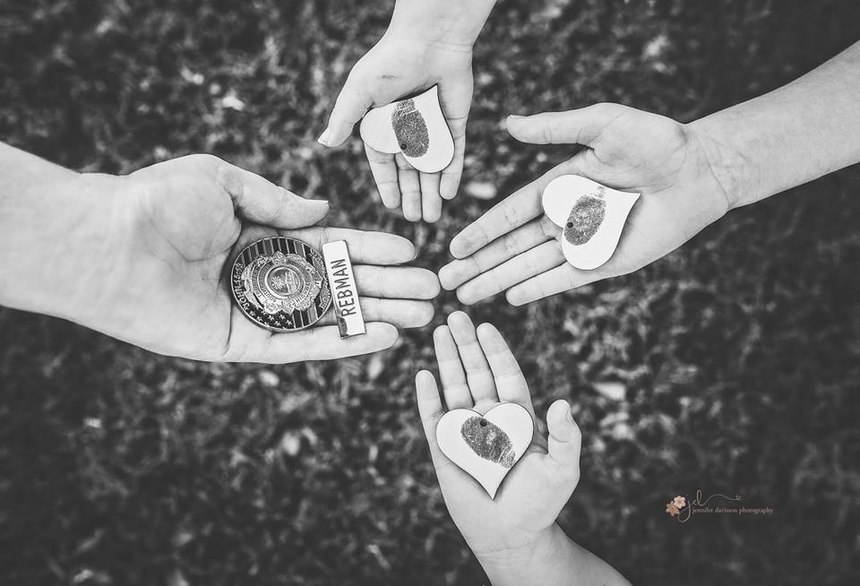 McClatchy-Tribune News Service