FBI releases LEOKA statistics for 2018
Of the 106 LODDs last year, 55 were felonious acts and 51 were accidents
---
By PoliceOne Staff
WASHINGTON — The FBI has released the latest statistics on fallen officers who were killed in the line of duty in 2018.
According to the report, 106 officers were killed last year. Of the 106 deaths, 55 were felonious acts and 51 were accidents.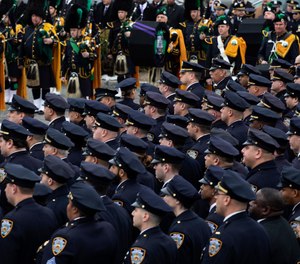 The number of officers killed as a result of criminal acts increased from the previous year, with nine more killed in 2018 than the 46 in 2017. Out of the 55 officers, 52 were male and three were women.
Out of those deaths, 23 officers died from investigative or enforcement activities and 11 were ambushed, with 37 slain by a handgun. A majority of deaths were reported in the South with 26 officers killed.
The average age for felonious LODDs was 37, and for accidental deaths, 36.
Accidental deaths also increased from last year by three compared to the 48 officers killed in 2017. Out of the 51 officers, 47 were male and four were female. 
Thirty-four officers died as a result of a motor vehicle crash. Of those, 29 were while operating a car, SUV, van or truck and nine were while operating motorcycles or ATVs. Of the 29 officers, eight were wearing seatbelts while 15 were not.
Twenty-seven of the accidental deaths occurred in the South.
The FBI released the LODD data this week in an effort to provide a more timely release to the public. The remaining report, which will present data of officers assaulted in the line of duty in 2018, will be available later this year.
To find more information on 2018's LODDs, visit the FBI's site.