Poem: Blue Line of Loss
An officer pays tribute to a brother in blue who was killed in the line of duty
---
Calling all police poets! PoliceOne's new column highlights some of the inspirational, moving and funny poems authored by our readers.
"Blue Line of Loss" by Deputy Phil Barker is dedicated to his colleague Deputy Micah Flick of the El Paso County Sheriff Office in Colorado who was killed in the line of duty on February 5, 2018.
"Losing an officer or deputy is never easy; it is exponentially harder when it is one close to home. Even though this is for Deputy Micah Flick, it speaks to all lost in the line of duty. Be safe brothers and sisters in blue," said Barker.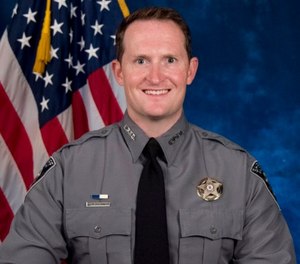 Email your submissions for consideration to editor@policeone.com.
Blue Line of Loss
The points are polished to a glistening shine,
The badge that he wears is the same as mine.
Grey and dark blue with boots all black,
Our vests disguise the burdens we pack.
Our uniforms are similar except for the name,
No matter how hard I strive, we'll never be same.
A wintry day the words choked with emotion,
Tears are shed it seems spirits are broken.
Passages of history mixing hope with his life,
The story of a man from friends, kids and wife.
Where some see a cop and little else more,
His life was riddled with compassion, kindness and more.
Much more than a man with a badge and a gun,
A husband, friend, father for daughter and son.
Although the truth is, he will come home no more,
He still casts a shadow across all our front doors.
A man of his strength and presence is rare,
Find a man more worthy of praise, to you I dare.
When the call came in, looked toward him and see,
He stepped up quietly and said, "Here am I, send me!"
He placed his toes daily on the fragile blue line,
He placed his foot firmly there this one last time.
His resolve to his duties were second to none,
He stood fast against evil when God called his son.
I admire this man, duty to office and life,
I find strength in the words from the soul of his wife.
The headlines read another cop slain today,
For us who remain, Micah helps light our way.
So as we grieve our own way filled with great sorrow,
Let his tale remind us time won't wait 'til tomorrow.
So as I bring my thoughts closed, a moment in time,
I look at the badge he makes proud to call mine.
For Micah would want us to remember our oath,
To duty, honor, office and life both.
Farewell my dear brother, even though we were strangers,
I will carry your name with me to face those same dangers.
Your name will be etched in the sacred hallowed hall,
We will carry you with us until our Father also does call.
One day we will remove this black band, diagonal across,
But forever burned on our hearts is a blue line of our loss.
So despite the badge, worn old or brand new,
Always and forever, a brother in blue.