City to replace sheriff's commander who oversaw Parkland shooting response
Capt. Jan Jordan, who was in charge during the deadly Parkland school shooting, has faced criticism for the agency's response to the massacre
---
By Nicholas Nehamas
Miami Herald
PARKLAND, Fla. — The city of Parkland wants to replace the Broward Sheriff's Office commander who led the agency's response to the shooting at Marjory Stoneman Douglas High School.
In a statement, Parkland City Manager Bob Payton said he has asked BSO to replace Capt. Jan Jordan with a commander who holds the rank of major as part of a series of changes to the way Parkland is policed.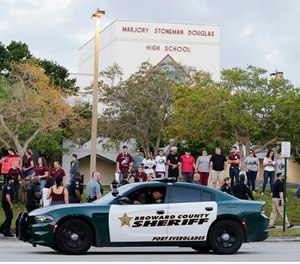 "In coordination with this comprehensive public safety evaluation process, I have proactively requested that Sheriff Scott Israel provide three recommendations to fulfill the upgraded role of Major," Payton said. "Capt. Jordan has provided great leadership to the City of Parkland and I am truly thankful for her service."
Jordan was in charge when Nikolas Cruz attacked the school on Feb. 14, killing 17 people in a span of just six minutes.
Several of her deputies, most infamously the school resource officer, Scot Peterson, were unable to locate where the shooting was happening. That wasn't the only problem with how law enforcement handled the situation: Jordan also faced criticism from special teams of Coral Springs paramedics who were not allowed into the school to treat victims because Cruz was still on the loose, even though they had been trained to operate in active shooter situations. One Coral Springs deputy fire chief said Jordan's command post was too crowded and chaotic to function effectively. And radio logs show Jordan focusing on ordering her deputies to set up a perimeter rather than enter the school and find Cruz or help victims.
But a Thursday news release from Parkland mentions none of that. Instead, the city says it has hired a private firm, the Center for Public Safety Management, to evaluate its contract with BSO to provide law enforcement services, as well as related issues like how the city handles 911 calls. The 911 system complicated the response to the rampage because frantic calls made on cellphones from the school went to neighboring Coral Springs instead of BSO, the agency responsible for policing Parkland.
The BSO contract expires Sept. 30, 2019. The city commission voted to bring on the firm Wednesday night.
In an interview with the Miami Herald Thursday, Payton said BSO had agreed to the request to replace Jordan, although it's not clear when the change will happen. He said Parkland city leaders and residents are "looking for more services from BSO," especially for heightened security in public parks and additional school resource officers.
"We're focused on moving forward and making sure the community feels safe and building that trust back," Payton said.
He declined to comment specifically on how Jordan handled the shooting and would not say whether the city's decision was in part tied to her performance, pointing to the ongoing state investigations into law enforcement's response.
"This wasn't one person," Payton said. "There were multiple failures."
Veda Coleman-Wright, a spokeswoman for BSO, said the move was "Parkland's decision." Parkland Mayor Christine Hunschofsky did not immediately respond to a request for comment.
Jordan, who has served as Parkland district commander since March 2017, could not be reached. She had been on the shortlist for the police chief job in Tequesta before the shooting. And she's not the only one whose career has been altered by the tragedy at Parkland. Peterson resigned and retired after it became clear he didn't go into the building where students and staff were dying. And two Stoneman Douglas security monitors on duty that day have also been reassigned after the fathers of two murdered victims said they asked for them to be fired, according to the Sun Sentinel.
©2018 Miami Herald
McClatchy-Tribune News Service