Helping police officers struck by the Joplin tornado
The cop struck by lightning in Joplin remains in critical condition — meanwhile, an 'Adopt-A-Cop Program' has been set up to assist local officers from the affected area who lost their homes and belongings
---
Two police officers were struck by lightning during the search for survivors which followed the massive tornado that killed scores in Joplin, Missouri. A local TV station indicated that "one of the officers was taken to the hospital, the other went back to work." The Wichita Eagle reported that the hospitalized officer had suffered "significant injuries" but that report offered no additional details.
Today I spoke with Captain Chris Skinrood of the Riverside (Mo.) Police Department, whose officer was the one critically injured in the lightning strike. Skinrood told me that the injured officer — who was identified as Officer Jeff Taylor in a press release issued this afternoon by the Riverside Police Department — remains listed in critical condition.
"He's doing better than what he was," Skinrood told me. "He has made some very, very slight improvements, but none the less they're improvements. He still has an extremely long road ahead of him..."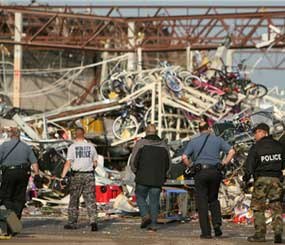 According to the abovementioned department press announcement, Officer Taylor was standing next to an all-terrain vehicle after returning to a command post when lightning struck the ground beside him. He was transported immediately to an area hospital and was reported to be in critical condition. Taylor was part of Riverside's 12-member contingent of police officers, firefighters and public works staff members who responded to the Joplin tornado disaster.
Family members, who have asked for privacy at this time, are accompanied by Riverside officers at Taylor's side. PoliceOne members looking for regularly-updated information about Officer Taylor, a website hosted by CaringBridge.org has been established here. There has also been an account set up — the Taylor Benefit Account — to accept donations to assist Jeff and his family with expenses.
Donations can be sent to:
K.C. Police Credit Union
2800 East 14th Street
Kansas City, MO 64127
Main Phone: 816-504-2800
Toll free: 800-338-8567
Fax: 816-504-2888
Internet: www.kcpcu.org
The thoughts and prayers of everyone here at PoliceOne go out to the family, friends, and fellow-LEOs of this injured hero.
Speaking of Thoughts and Prayers...
The tornado — now classified as an EF-5, the highest possible rating on the Enhanced Fujita scale of tornado power and intensity — that leveled a six-mile swath of Joplin had also struck police officers in other ways. Today I received an email from Scott Barthelmass, founder of the Missouri Law Enforcement Funeral Assistance Team, and a Corporal with the Overland (Mo.) Police Department.
Barthelmass told me about a joint effort between Ten Four Ministries, an organization based in Tulsa (Okla.) and whose Director is my good friend and PoliceOne Colleague, Travis Yates, and the Missouri Law Enforcement Funeral Assistance Team to create an 'Adopt-A-Cop Program' for the officers of Joplin Police Department and the Jasper County Sheriff's Department.
Barthelmass said that they've received a "list of seven officers who lost everything" in the disaster.
"We are in the process of contacting these officers so that we can meet their individual needs. If we are notified of more officers, we will most definitely add them to our list. We will also soon begin working on a list of officers whose homes suffered significant damage ... with the cooperation of many local, state, and national law enforcement organizations, we will spread the needs of our Adopt-A-Cop Program," he said.
The two lead partners in the effort are working with officers from the FOP Lodge (Lodge 27) to identify the needs of law enforcement officers there. Barthelmass said that he'd spoken with Lodge 27's William Davis, who said that the affected officers are "going through what is left of their homes."
Davis continued, "Financial support is primarily what they are needing at this time as they all looking for new places to live and places to store their belongings."
Donations can be sent to:
10-33 Fund
Adopt A Cop Program
Joplin, Missouri Area Tornado Victims
Ten-Four Ministries
PO Box 52005
Tulsa, OK 74152
Donations can also be made via the Internet. Because Ten Four Ministries and the Missouri Law Enforcement Funeral Assistance Teams are both 501c3 organizations, all donations at tax deductible.
According to Barthelmass, the specific needs of the officers and their families will be posted on the Missouri Law Enforcement Funeral Assistance Team and Ten Four Ministries websites, and I will update our coverage on PoliceOne as additional information becomes available. To wit, Lodge 27 late this afternoon sent an update to PoliceOne via our friends at Missouri Law Enforcement Funeral Assistance Team. The specific needs have now been identified for one officer, who has a two-year-old daughter who desperately needs clothes (Size 2T). She also lost all her toys.
I, for one, will tonight be gathering up as many toys as possible from my own son's playthings he's outgrown, and mailing them tomorrow in a box to the below address.
Joplin Police Dept.
Attn: William Davis
303 E 3 rd St.
Joplin, MO 64801
The officer himself, according to the latest update from Barthelmass, has just one pair of clothes. He wears a size 38x32 pant and XL shirts and size-14 boot. Lodge leadership reports, "If we could get him some BDUs and shirts and a pair of boots that would be great."

Death Toll Mounts, Search for Survivors Continues
The death toll of the mammoth tornado was recently estimated to be 125 souls, with some 1,500 people reported missing and more than 750 injured. Police officers from around the country continue to assist in the search for survivors, with 32 Kansas City Missouri Police Department employees reportedly still in the tornado-stricken region, and cops from other agencies are reportedly still arriving to assist.
The Associated Press reported this morning that Missouri Gov. Jay Nixon hopes more survivors will be found. "I still believe that because of the size of the debris and the number of people involved that there are lives to be saved," Nixon said.
In fact, according to several reports, search and rescue teams found two more survivors just this morning. The search, of course, will continue in earnest for days. Meanwhile, Nixon also conceded that he fears the death toll will rise. "I don't think we're done counting," he reportedly said.
The twister that struck Joplin is thought to be the deadliest single tornado to hit the United States since 1950. Barthelmass told me, "For those who have not seen the images of the destruction, it is truly almost unreal."
One civilian volunteer rescue worker — who has also worked at Ground Zero in New York following the 9/11 terrorist attacks and in New Orleans following Hurricane Katrina — described the destruction as "Katrina without the water."
As I mentioned above, the Joplin tornado has been classified as an EF-5 (upgraded from its original classification of EF-4). Such a storm has winds greater than 200 miles per hour, which compares to a Category Three hurricane. Katrina made its second landfall as a Category Three storm on the morning of Monday, August 29, 2005 in southeast Louisiana. Katrina killed more than 1,800 people and caused more than $81 billion in property damage.