Proper death notification after an act of mass violence
Law enforcement agencies must include the death notification function into their preparedness planning
---
By Dr. Kathryn H. Floyd, Jamie Pianka and John Montes
Performing death notifications are difficult under any circumstances. Period.
Notifying families of the unexpected death of their loved one is difficult and will have a permanent emotional impact on victims' families, as well as on those individuals who perform this necessary and emotional function. Performing death notifications after events of mass violence are complex and require planning and preparation, compassionate delivery and appropriate follow up so that these may be delivered with the highest levels of professionalism, compassion and dignity.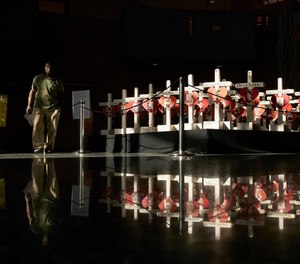 Consider two examples from mass shooting incidents. In the first, a well-meaning politician gathered families and collectively informed them no one else was coming out of the elementary school alive. In the second example, a trained team that included the medical examiner, a police officer and victim service providers brought families to different rooms out of hearing range from one another to do near-simultaneous notifications, explaining that their loved one had died at the office.
While performing a death notification after a motor vehicle collision or other local incident may be considered part of a law enforcement officer's job, not all jurisdictions are yet following established best practices as they deliver to families what will be some of the most impactful and emotionally shocking news many will ever receive.
Jurisdictions, and more specifically, law enforcement agencies, must include the death notification function into their preparedness planning and develop a process to ensure this critical function is not improvised. This process has several steps:
Identifying the decedent and collecting accurate information;
Selecting a death notification team pre-trained on the same protocol or who have received instruction from someone who is trained on the protocol;
Being aware of protocols or standard operating procedures;
Preparing for the next of kin response;
Anticipating frequently asked questions;
Delivering the notification as soon as possible by reviewing what happened, using the decedent's name, and saying the word "dead" or "died" several times;
Answering questions honestly, asking if the next of kin can contact someone and accompanying the next of kin if alone;
Providing resources to the next of kin and requesting a follow-up visit;
Following up with next of kin within 24 hours to assist with questions, personal effects, media intervention, victim services and more;
Evaluating if the death notification team needs assistance with stress reduction or other resources.
The following free training and resources based on best practices will help law enforcement agencies prepare for the death notification process:
"We Regret to Inform You"
Created in 2015 by the FBI Office for Victim Assistance (now the FBI Victim Services Division) and Penn State University, "We Regret to Inform You" offers free online training for law enforcement officers and others who deliver death notifications.
The training describes a four-step process that incorporates pre-planning, preparation, the actual visit to deliver the notification and follow-up with the family.
A major part of pre-planning is identifying the right team of trained individuals, who are good listeners and empathetic, to conduct the notification. The team should include two to three individuals, to possibly include law enforcement, a victim advocate, the medical examiner/coroner, or clergy member. At a minimum, a team should include one person whose primary responsibility is to deliver the death notification and a second supporting person to ensure scene safety and monitor reactions.
Death notification delivery becomes an indelible part of the way families experience sudden loss and is as much about the how as about the who.
"How a death notification is delivered can make an already tragic situation worse or imbue it with care and compassion. We must be at our best when we interact with people at the most painful moment in their entire lives," said Kathryn M. Turman, Assistant Director, Victim Services Division, Federal Bureau of Investigation (FBI).
During the preparatory phase, accurate information on the victim and incident should be collected so the team is best equipped to answer questions the next of kin may have. The team and jurisdiction should be aware of existing trauma-informed protocols or standard operating procedures and expect certain next of kin responses.
For the delivery, give the notification as soon as possible, hopefully ahead of the death being shared on social media or the news. Review what happened using the decedent's name and saying the word "dead or died" several times.
"We Regret to Inform You" includes sample statements that can be helpful such as, "People can experience many different feelings at the same time," and those that are not helpful, "You'll get over this someday." When answering questions, the team will want to be honest. Proper delivery "…can help surviving family members begin to grieve and make sense of the death. When death notifications are awkwardly delivered or poorly timed, when they convey wrong information or contradictory information, or are made in a manner that the survivors find cold or unsupportive, they add to the pain and trauma the family must endure," according to Janice Harris Lord, MSW, and Alan E. Stewart, PhD in their book "I'll Never Forget those Words."
As the notification is completed, the team will want to ask the next of kin if they can contact someone. The officers should stay with a person who is alone until someone arrives. Before departing, resources should be provided to the next of kin and a follow-up visit requested for the next 24 hours. During the follow-up, officers and victim service providers should be prepared to answer their questions, discuss the return of personal effects, link the next of kin with other services, provide media intervention and more.
"We Regret to Inform You" also addresses the legitimate concern of how delivering death notifications impact the officer(s) tasked with delivering the news and answering questions family members may have. Research shows that death notifications can be stressful or extremely stressful for the individuals providing the notification since they may absorb some of the pain and trauma of the people they notify. The expression of intense anxiety and emotion on the part of family members during death notification is another stressor for the individuals handling the notification. Officers and other responders who were involved in gruesome or graphic death scenes may be too affected themselves to be able to effectively participate in notifications. Part of training for the delivery of death notifications is anticipating officers who may need assistance with stress reduction or other resources.
"We Regret to Inform You" features a resource section with web links, a pocket guide for the death notification team to use and a brochure on grief that can be left with the family. This comprehensive training addresses the many complex factors and players involved in delivering death notifications at events of mass violence. In addition to mass casualty events, the training covers a variety of considerations, including foreign national victims living in the U.S. and American citizens living abroad, language barriers and cultural differences, children and the elderly, the role of victim assistance, the media and the impact of social media. These considerations are becoming more common and jurisdiction can better understand how some of these may impact them.
Officers who receive training like "We Regret to Inform You" are better prepared for the responses of the families and themselves, and thus better prepared and able to cope with the task.
NFPA 3000 (PS): Standard for an Active Shooter/Hostile Event Response (ASHER) Program
After the Pulse nightclub shooting, the call to better prepare for mass violence reached a fever pitch. The National Fire Protection Association (NFPA), created by Congress to created codes and standards covering life safety, was tasked with creating the first national protocol in this functional area. NFPA 3000 (PS): Standard for an Active Shooter/Hostile Event Response (ASHER) Program is a whole community plan developed with input from law enforcement, fire, EMS, emergency management, facility management, healthcare officials, higher education administration and private security, as well as the Department of Homeland Security, Department of Justice, Department of Defense, and others.
NFPA 3000 provides communities with a planning structure based on a compilation of resources assembled by subject matter experts and lessons learned from those jurisdictions where mass violence events have occurred. The standard provides a multidisciplinary approach to planning, response and recovery that captures many functions during these events.
Because of the long-lasting impact these incidents have on people, a comprehensive plan must include planning for death notifications, in addition to reunification. NFPA 3000 addresses prior gaps in planning, including how someone is told their loved one is deceased, and considers the varied and disparate circumstances from mass violence events ‒ including Sandy Hook, Las Vegas, Orlando, Boston, San Bernardino, Wisconsin, Parkland and many others. NFPA 3000 provides officers with greater depth and breadth of myriad things they will encounter, including death notification, following an active shooter or hostile event situation.
Mass Violence Toolkit and Vicarious Trauma Toolkit
The Office for Victims of Crime (OVC) ‒ in coordination with the Federal Bureau of Victim Service Division, and the U.S. Department of Justice's Office of Justice for Victims of Overseas Terrorism ‒ developed the Mass Violence Toolkit to help communities and emergency managers prepare for and respond to victims of mass violence and terrorism in the most timely, effective and compassionate manner possible.
Lessons learned from past incidents indicate that through advanced planning (which includes the establishment of victim assistance protocols), and by developing and maintaining multidisciplinary partnerships, communities are better prepared to engage a holistic approach to victim assistance to ensure that each victim's needs are met, including those of first responders and other assisting organizations. This toolkit also contains materials that will aid communities' responses to victims even if they have not fully planned for the type of incident. 
The Vicarious Trauma Toolkit, also created by OVC, helps victim service providers, EMS, fire services, law enforcement and other allied professionals prepare their employees and organizations for exposure to the traumatic experiences of other people, also known as vicarious trauma. Research and past events show that vicarious trauma, when left unaddressed, can lead to staff burnout, turnover, stress and a lesser quality of services for victims. For those deeply traumatized, the effects are far worse and can be life-threatening. The toolkit contains a repository of nearly 500 resources and offers guidance to help organizations strengthen their ability to address work-related exposure to trauma.
Planning for the Worst News
These resources mentioned in this article provide police departments, local jurisdictions and others with the necessary tools to train officers on proper death notification practices as part of a larger mass violence plan. "We Regret to Inform You," the Mass Violence Toolkit, and the Vicarious Trauma Toolkit are free to access and use. Through its Training and Technical Assistance Center (TTAC), OVC is also able to offer free customized training and technical assistance to help your jurisdiction create or update plans for victims and trauma. Contact ttac@ovcttac.org or 866–682–8822 to learn more. NFPA 3000 has an abundance of additional references and resources for the end-user, many of which are free including the standard, fact sheet, articles and videos.
Because of the frequency and inherent lethality of these incidents, law enforcement agencies need an increased level of planning, coordination and exercise, to include death notification and recovery. As jurisdictions work toward greater capacity to respond to and recover from active shooter and other hostile events, these resources will be invaluable.
This article was produced under grant 2016-VF-GX-K032 awarded to Dr. Kathryn H. Floyd by the Office for Victims of Crime, Office of Justice Programs, U.S. Department of Justice. The opinions, findings and conclusions expressed are those of the contributors and do not necessarily represent the official position of the U.S. Department of Justice.
---
About the authors
Kathryn H. Floyd, PhD, is the director of William & Mary's Whole of Government Center of Excellence. Floyd recently served as the Mass Violence & Terrorism Visiting Fellow at the U.S. Department of Justice, Office for Victims of Crime. Having studied mass violence for over 15 years, Floyd focuses on enhancing interagency cooperation to address national security problems and helping emergency managers to prepare for and respond to victims of mass violence and terrorism.
John Montes is an emergency services specialist at the National Fire Protection Association, currently assigned as staff liaison to the technical committees for fire service training, EMS, fire service occupational safety and health, and the active shooter response standard programs. A nationally registered EMT, John has worked in EMS in several different roles, from the private service to Boston EMS, to serving as an EMS specialist/EMS duty chief for the County of Santa Clara EMS Agency. In his role at the NFPA, John is assigned as representative to the Joint National EMS Leadership Forum, National EMS Advisory Council and the Road to Zero Coalition.
Jamie Pianka has been participating in EMS, healthcare and healthcare policy domestically and internationally for many years. Jamie had previously held the position of state director of The Office of Emergency Medical Services (OEMS) for the Commonwealth of Massachusetts. He later represented the American Ambulance Association on the technical committee for NFPA 3000 Active Shooter Hostile Event (ASHE) and worked extensively on the standard in the area of recovery. Jamie's government experience includes municipal, state and federal level work intersecting the disciplines of emergency management, fire & rescue and EMS.