RISE Award nominee: Officers save countless lives amid a catastrophic blast
Without any radio contact, Officer Irving communicated with his officers and outside first responders to evacuate his town and prevent further tragedy after the West fertilizer plant explosion
---
Congratulations to Officers Michael Irving and Mark Pope of the West, Texas Police Department for their nomination of TASER and PoliceOne's RISE Awards in the 'Protect Life' category. Nearly 18 months after a tragedy struck West, both officers continue to live with both the physical and emotional affects of a chemical explosion that forever altered their town. Nominations closed Sept. 15. We'll be announcing the winners shortly! 
In the center of the small farming town of West, Texas now sits a deep cavity — a stark reminder of the explosion that wiped out a town. A nursing home, an apartment complex, schools, and 150 homes were destroyed, along with the lives of 15 people, 12 of whom were first responders.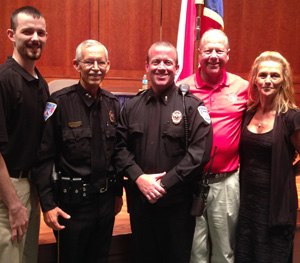 It's hard to call a town lucky after such a devastating disaster, but that's just what West, Texas was. Lucky to have such a dedicated team of police, fire, and EMS crews. Lucky that Officer Michael Irving was on duty April 17, 2013. 
Just Another Day
Before the West fertilizer plant erupted, sending thousands of residents into a chaotic frenzy, it was just another day. Children were at play at a nearby park, people were walking their dogs, and Officer Irving was finishing up dinner and heading out on patrol.
As he drove in the direction of the plant, he began to smell it — that thick, distinct smell of smoke. As he leaned over the passenger side of his car he spotted a plume of white smoke billowing from the plant.
Smoke quickly turned into shooting flames as he drove closer and he contacted dispatch and the fire department to report a structure fire.
The fire department directed him to control traffic as they made their way to the plant, but he had a bigger problem to solve first: the city park was still filled with people.
His voice boomed authoritatively over the PA system of his cruiser, demanding everyone to leave the park quickly.
"I did not tell them nicely," Irving says, looking back at the incident. He drove up and down until it was completely cleared. It was only a matter of time before that park would cease to exist.
"Smoke so dark it looked like night"
Irving began conducting traffic control on the north end of the town when he spotted a man who lived nearby watching the commotion and recruited him to help, using his truck to block the street to prevent people from driving closer to the plant.
With the north end covered, Irving was free to head south to control traffic from that end. He watched fire and EMS rush past toward the plant as onlookers flooded the streets. He overheard firefighters on the radio saying the plant was fully engulfed.
Meanwhile, patrol officer Mark Pope was sitting in his EMT certification class when firefighters in the class began getting paged about the fire. They stepped outside and saw the flames rising up from the building. Pope called Irving to ask how he could help, and was told to relieve the man who'd been asked to block traffic with his truck.
Explosion, then Chaos
Then, in a deafening instant, their worst fear became a reality. First responders were hurled into the air as a heavy black cloud rolled over the town. An explosion with the force of a small earthquake rocked the community, disabled vehicles and radio communication, and cut off electricity.
Irving and Pope — on separate sides of town — had been thrown to the ground by the blast. As Irving regained his composure, he ran to treat a young girl bleeding from a deep leg wound. He wrapped his sweatshirt around the wound and directed the girl's frantic mother to get her medical help.
He saw a firefighter — struck by a beam launched from the building — staggering toward him, then suddenly collapse to the ground. Irving raced towards him, lifted him into a vehicle, and arranged for him to be taken to the hospital.
Pope, who'd dislocated his collarbone and injured his ribs in the explosion, composed himself and quickly commandeered a vehicle in order to transport nursing home patients to the medical triage that had been set-up at a command center on the other side of town.
On foot, Irving walked street to street ensuring the nearby residents were evacuated, undeterred by his own wounds from the explosion. In fear of a second explosion, he ordered everyone at the high school and the county special response team to be moved further away, to the command center he had established further south.
Irving then directed Pope and the rest of his department, plus the hundreds of neighboring police officers who came to assist, to gather to ensure everyone was okay before splitting up and patrolling the downtown business area to deter theft.
"We didn't have to file a single looting report," he said proudly of his community.
Endless Shifts
Irving ended up working until 8 AM the following morning. He would work 168 hours in the next ten days helping put back together a shattered community. All seven of the full-time officers that made up the West Police Department were working 12 to 16 hour shifts in the following days.
"Within those first few months we all worked 24 hours straight," said Pope. "We were all working non-stop just trying to help citizens and put things back together.
"It was just a blur of lights and sirens for the first few days. No one had power but you didn't need it; the town was lit up with red and blue lights."
It took Irving and Pope three or four days before they found time to get medical help for themselves.
"We couldn't just stop and quit to run over [to the hospital]," said Pope. "I was alive and I could move so I was in better condition than a lot of other people."
Both officers suffered severe chemical burns from airborne chemicals near the explosion. Irving suffered permanent hearing loss from the incident, as well as PTSD.
Atop his dislocated collarbone and hurt ribcage, Pope suffered severe damage to the lining of his esophagus. Doctors believe he inhaled flames during his evacuation efforts, and he still experiences painful burning in his chest and has difficulty breathing.
A Somber Rebuilding
Five from the West Volunteer Fire Department and four emergency medics were among the 15 causalities of the explosion.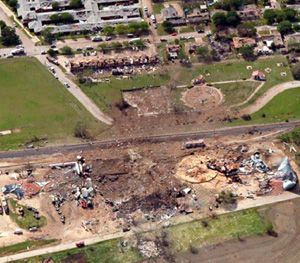 An aerial image of West shows the amount of physical damage caused by the plant explosion. (Photo courtesy West Volunteer Fire Department)
A year and a half later, about 80 of the 150 ruined homes have been rebuilt.
"The rebuilding process does return a sense of normalcy to the city. As more structures and homes are rebuilt, morale and citizens' spirits continue to strengthen," said Irving.
Just a few weeks after the West plant explosion, Irving was promoted from Sergeant to Lieutenant, due largely in part to his tremendous leadership efforts during the explosion and in the following days. His ability to establish communication without radio contact between first responders to ensure everyone's safety was undoubtedly a factor for so many lives saved. Aerial shots of the town after the explosion show a crater that encompasses the city park where children were at play, as well as the original command center location for first responders.
Lt. Irving and Officer Pope were awarded Achievement Awards for Valor from the Texas Commission on Law Enforcement (TCOLE). Their continued efforts to rebuild their town are why they have been nominated for PoliceOne and TASER's RISE awards in the category of 'Protecting Life.'