Ind. cop ambushed, killed saving woman, gunman killed
Officer Rod Bradway was killed after he busted into a home, hearing a woman screaming for help
Duty Death: Rod Bradway - [Indianapolis, Indiana]
End of Service: 09/20/2013
---
By Rick Callahan
Associated Press
INDIANAPOLIS — Indianapolis police have identified the man they say shot and killed an officer who had forced his way into an apartment where a woman was screaming for help.
Officer Rod Bradway was pronounced dead at an Indianapolis hospital after a shootout early Friday morning.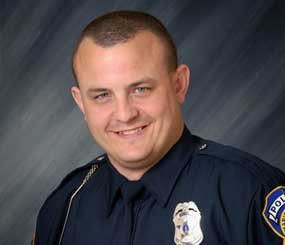 The Marion County Coroner's Office identified the suspect as 24-year-old Steven Byrdo. He died after exchanging gunfire with police.
Detective Thomas Lehn told The Indianapolis Star that Byrdo was hiding behind the door the 41-year-old Bradway kicked in and shot him as he entered the apartment.
Lehn says Brydo had been holding the woman at gunpoint for three hours and she screamed at Bradway that Brydo was behind the door.
The gunman also was killed after exchanging gunfire with police, police spokesman Lt. Christopher Bailey said. A woman and a small child also inside the home were unharmed, he said.
The officer killed, Rod Bradway, and at least one other officer went to the apartment complex on the city's northwest side about 2 a.m. after someone called 911 to report a disturbance.
"When he arrived to the apartment door, he heard a woman scream for help inside the apartment," Bailey said.
Bradway forced his way inside and was shot, Bailey said. The 41-year-old officer was taken to Wishard Memorial Hospital, where he died a short time later.
Investigators were still working Friday morning to confirm the gunman's identity and the circumstances surrounding his death. The child was taken by child protective services, said police spokesman Officer Kendale Adams, who had no other details on the child.
Bradway, who was married with a teenage son and daughter, was a five-year veteran of the police department, according to police. He was a native of the northern Indiana town of Nappanee.
Police Chief Rick Hite asked the public to pray for Bradway's family.
"He entered an apartment to save the life of a woman who was being assaulted and in turn gave his life," Hite told reporters outside the hospital. "Blessed are the peacemakers."
The department said Bradway was a highly decorated officer who had received its Medal of Bravery in February 2012.
A few dozen police squad cars escorted a vehicle carrying Bradway's body as it left the hospital about 6 a.m. on its way to the coroner's office.
Adams said Bradway had helped with relief efforts in the aftermath of May's deadly Moore, Okla., tornado. Bradway's wife, Jamie, wrote in the June issue of the city's Department of Public Safety newsletter that she and her husband helped collect supplies for pets displaced or found wandering in the storm's aftermath
The couple delivered to Moore's animal shelter 28 pet crates, hundreds of pounds of dog and cat food, leashes, water bowls, animal toys and other items, she wrote. They were on hand when a family was happily reunited with their dog.
The shooting prompted Indianapolis Mayor Greg Ballard to cut short a trip to Germany for a business summit and return to Indianapolis. In a statement, the mayor said Bradway "gave his life protecting the people of our community by charging ahead to confront the unknown."
Bradway is the first Indianapolis police officer killed in the line of duty since Officer David Moore was shot during a traffic stop on the morning of Jan. 23, 2011. Moore, the son of two police officers, died three days later.
Copyright 2013 Associated Press
Copyright Associated Press. All rights reserved. This material may not be published, broadcast, rewritten, or redistributed.