La. LEO killed, K-9 wounded in single-vehicle crash
The LEO was driving with his K-9 when their vehicle inexplicably ran off the road and overturned into a canal
Duty Death: Lt. Steven Whitstine - [Baton Rouge, Louisiana]
End of Service: 05/30/2019
---
Lea Skene
The Advocate, Baton Rouge, La.
BATON ROUGE — Friends and colleagues were mourning the loss Thursday of an East Baton Rouge Parish sheriff's deputy who spent decades training dogs for law enforcement agencies in south Louisiana.
Lt. Steven Whitstine, 42, was driving to work Thursday morning with his new K9 partner when their vehicle inexplicably ran off the road, striking a tree and bridge before overturning in a roadside canal around 6:30 a.m., East Baton Rouge Sheriff Sid Gautreaux said.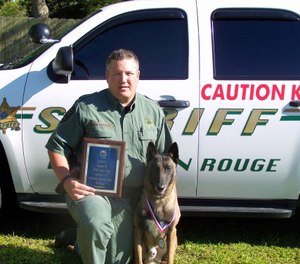 The longtime law enforcement officer was pronounced dead at the scene. And his dog, "Six," was taken to a local vet to be treated for minor injuries, Gautreaux said.
No other vehicles were involved and authorities are investigating what could have caused the accident.
Whitstine joins multiple other law enforcement officers from the Baton Rouge area who have been killed or injured in traffic accidents over the past several months, most recently Baton Rouge police Cpl. Shane Totty who was killed in a motorcycle wreck while escorting a funeral procession in February.
"This is another tragic accident. It's not easy to lose a deputy under any circumstances," Gautreaux said outside the East Baton Rouge Coroner's Office following the arrival of the body Thursday morning. "He was a fine young man. … We have to go on, but he will be missed."
Whitstine, 42, had served as a K9 officer with the East Baton Rouge Sheriff's Office for the past eight years. He leaves behind his wife — also an East Baton Rouge sheriff's deputy — and their two adult children.
He started his career in law enforcement with the Louisiana Department of Corrections, working in the dog training program at Elayn Hunt Correctional Center. He then moved to the Baker Police Department and served for nine years as a K9 officer before later transferring to the sheriff's office at Gautreaux's request to help expand the K9 division there.
Whitstine was the division's second in command, working under his longtime colleague Capt. James Broussard who heads the program. The division grew under their leadership from just two dogs to 13, earning national recognition in the process.
Broussard said Whitstine had gotten his new K9 partner just a few weeks ago. He had spent months searching for the right dog following the death of his last partner.
"He was without a dog for over a year and that weighed heavily on him," Broussard said. "Dogs were his passion. … He was so excited to be working with this new one."
Colleagues described Whitstine as "laid back and easygoing — a big teddy bear." They said his steadfast nature and unwavering patience defined his interactions with both human and canine friends.
In addition to his job and family, Whitstine was a musician. He played guitar and sang in local bands.
"And if there was a karaoke machine anywhere around, he was gonna get up there," Gautreaux said with a smile. "He really prided himself on his Elvis impersonation. … But he was a better singer than he was an impersonator."
An autopsy is scheduled for Friday morning, which could reveal more about what caused the accident.
Dozens of law enforcement officers escorted Whitstine's body from the scene of the accident on Port Hudson–Pride Road in Zachary to the East Baton Rouge Coroner's Office on Thursday morning. The procession arrived around 10 a.m. and the group then saluted their fallen colleague as his body was carried inside.
The sheriff said an announcement about funeral arrangements will be provided in coming days.
Officials announced Thursday morning that Port Hudson Pride Road would be closed immediately between Munson Drive and Pin Oak Lane for bridge repairs because of damage due to the accident. The detour route will be Zachary–Slaughter Road to Rollins Road to Old Scenic Highway.
———
©2019 The Advocate, Baton Rouge, La.
McClatchy-Tribune News Service