NC officer succumbs to injuries
Shelby Police Officer Tim Brackeen has succumbed to his injuries after being shot during a struggle with Irving Lucien Fenner Jr.
Duty Death: Tim Brackeen - [Shelby , North Carolina]
End of Service: 09/12/2016
---
By Gabe Whisnant
The Star
SHELBY, N.C. — Shelby Police Chief Jeff Ledford confirmed at 1:28 p.m. Officer Tim Brackeen died Monday morning at Carolinas Medical Center in Charlote.
Brackeen, 38, leaves behind a wife, Mikel, and one daughter, Daphne.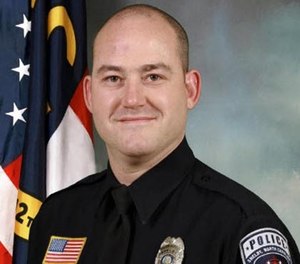 "I wanted to let you all know that Officer Brackeen passed away this morning. Please keep everyone in your prayers," Shelby Police Chief Jeff Ledford shared in an email on Monday.
On Saturday morning at 12:21 a.m., Brackeen was looking for 23-year-old Irving Lucien Fenner Jr., to serve outstanding warrants on him. He reportedly found Fenner at 212 Gidney St., near Bethel Baptist Church, in Shelby, police said. The two struggled outside the home, and Brackeen was shot in the chest, Ledford said.
Other officers arriving on the scene heard the sound of gunfire, and when they went to Bracken's location, they found him outside the home and injured, Ledford said Saturday. Brackeen was wearing his bulletproof vest at the time of the shooting.
Brackeen was taken to Carolinas HealthCare System-Cleveland and then taken to Carolinas Medical Center in Charlotte. 
Fenner is charged with attempted murder related to the shooting.
Brackeen was with the Shelby Police Department since July 2004 and was assigned as a K-9 officer for the department with his partner "Ciko."
Brackeen is known in the Shelby community for the classes and demonstrations he had done with his partner, Ciko, Ledford said. Because of his work with the community, the department has seen an outpouring of people wanting to help Brackeen's family and the department.
Brackeen was awarded Officer of the Year in 2012. Mayor Stan Anthony gave the award to Brackeen.
"He is such a good guy and so thoughtful. He is everything you'd want in a police officer. It's so hard to see something like this happen to him," Anthony said on Saturday.
McClatchy-Tribune News Service