Wis. trooper, suspect, motorist killed in shootings
Suspect fired his handgun inside a bank and robbed it of an unspecified amount of cash, then fled in a bank employee's vehicle
Duty Death: Trevor Casper - [Fond du Lac, Wisconsin]
End of Service: 03/24/2015
---
By Gretchen Ehlke
Associated Press
FOND DU LAC, Wis. — A Wisconsin State Patrol trooper just three months out of the academy and working his "dream job" died in a shootout with a bank robbery suspect also believed to have killed another motorist.
The robbery suspect, whom the state Department of Justice identified as Steven Timothy Snyder, also died in the shooting Tuesday evening in Fond du Lac, in eastern Wisconsin.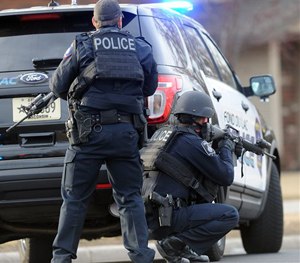 Authorities have not identified the motorist who was killed, but a patrol bulletin to law enforcement agencies identified the trooper as 21-year-old Trevor Casper. The bulletin said Casper joined the patrol in July in a class of recruits who completed training in December.
Snyder was suspected of robbing the State Bank of Florence in Wausaukee, about 130 miles to the north, around 2 p.m. Marinette County Sheriff Jerry Sauve said in a statement that the suspect fired his handgun inside the bank, took an unspecified amount of cash and fled in a bank employee's vehicle.
Less than an hour later, a man believed to be in his 60s was found fatally shot on a road east of Wausaukee, alongside a still-running pickup truck, according to the sheriff. Deputies searched the area and found the bank employee's stolen vehicle. Investigators believe Snyder shot the man then fled in yet another vehicle.
Casper spotted the suspect driving in Fond du Lac about 5:30 p.m. and followed him, Fond du Lac Police Chief William Lamb said. The shootout happened shortly thereafter.
Casper was a native of the small town of Kiel, about 30 miles northwest of Fond du Lac. An Associated Press reporter was turned away at the family home Wednesday as a stream of visitors paid their respects. But his parents, Kevin and Debbie Casper, later issued a statement.
"Our son Trevor was an amazing young man who from a young age would do anything to help anyone," they said. "It did not surprise us when he selected a career in law enforcement. Even as a young child he was always helping others. Trevor had a soft and good heart. He truly believed his sole purpose in life was to serve and protect others."
Police officers in Kiel wore black bands over their badges in Casper's memory.
"He definitely had a servant's heart," said Kiel Police Chief Dave Funkhouser, who knows the family well. The trooper's mother works for the city, he said, and he's also survived by two younger sisters.
The chief said his city of about 3,700 people is mourning with them.
"When an incident like this happens we all hurt. ... We ache and hurt as a community," he said.
Casper had longed to join the State Patrol, said Ryan Skabroud, dean of public safety programs at Lakeshore Technical College in Cleveland, Wisconsin, where he studied criminal justice.
Skabroud said Casper was a high achiever who won a class award for his marksmanship. Another instructor, Lou Richard, said Casper excelled in training on traffic stops, assuming the role of incident commander in role-play situations.
"Truly a natural born leader," Skabroud said of Casper.
"He came here and got an education that opened a lot of doors for him and got the dream job he wanted," he said.
He was a popular varsity wrestler and soccer player at Kiel High School, Superintendent Louise Blankenheim said. He graduated in 2011.
In Fond du Lac, U.S. and state flags were at half-staff and flowers were placed at the patrol headquarters where Casper was based.
"Trooper Casper was among the group of brave men and women in the Division of State Patrol who put themselves in dangerous situations each day as they work to keep the people of Wisconsin safe," Wisconsin Department of Transportation Secretary Mark Gottlieb said in a statement.
Gov. Scott Walker said Casper was killed "while bravely serving his community."
Casper was one of two law officers to die in violent incidents Tuesday. In California, Michael Johnson, a 14-year veteran of the San Jose Police Department, was killed when a man threatening to commit suicide fired several shots at officers checking on him at his apartment.
Copyright 2015 The Associated Press
Copyright Associated Press. All rights reserved. This material may not be published, broadcast, rewritten, or redistributed.