Deputy suspended for sleeping on duty at Parkland high school
About 30 minutes before the deputy was found asleep, deputies arrested Zachary Cruz, brother of Nikolas Cruz, for trespassing on school grounds
---
By PoliceOne Staff
PARKLAND, Fla. — Authorities said a Broward County sheriff's deputy was suspended after he reportedly fell asleep in his patrol car while on-duty at Marjory Stoneman Douglas High School.
Veda Coleman-Wright, spokeswoman for the Broward County Sheriff's Office, said Tuesday that Deputy Moises Carotti was suspended with pay, pending an internal affairs investigation, WPLG reports. Coleman-Wright said a student on Monday told another deputy that Carotti was sleeping near the same building where the Feb. 14 massacre took place.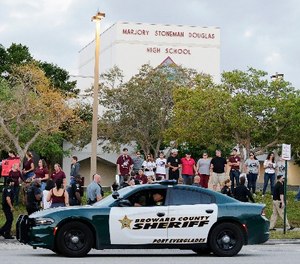 The Miami Herald reports that a sergeant went to Carotti's patrol car and knocked on his window to wake up the deputy. Another deputy was sent to replace him afterwards.
Carotti was ordered to turn his badge and vehicle in and inform internal affairs about his whereabouts twice a day.
About 30 minutes before Carotti was found asleep, deputies arrested Zachary Cruz, brother of Nikolas Cruz, for trespassing on school grounds. Zachary rode his skateboard to the school to "reflect on the school shooting and soak it in," police said. Zachary was told several times to not visit the campus prior to the incident.
After learning about the deputy's suspension, Sen. Marco Rubio said the incident was "almost impossible to believe."
"Of all the schools in America, you would think this would be the safest one right now," Rubio said.
Sheriff Scott Israel said he was "disappointed" after learning about the allegations against Carotti, according to the Sun-Sentinel.
"That a deputy was sleeping is incredibly disappointing," he said. "As you know, I can't comment on an ongoing internal affairs investigation, but once the findings are in I will make the appropriate decisions regarding the way we are going to handle it and the level of discipline."
The deputy's suspension is one of the latest incidents to occur at the school this week. On Tuesday, two students were arrested for bringing knives to the school. Another was investigated for making a threat on social media.
"Security at Marjory Stoneman Douglas continues to be an urgent priority for us," Broward County Public Schools Superintendent Robert Runcie said. "Given the developments over the past 24 hours, we will further enhance school safety measures. Communications on details will be forthcoming tomorrow."