Chief: 'Instigators' attacked Iowa officers, escalated 'successful and peaceful' protest
A "small group of instigators" interrupted a peaceful protest and began throwing rocks and bricks at officers, injuring them and damaging police vehicles
---
Des Moines Register
DES MOINES, Iowa — During a Saturday morning press conference, Des Moines police addressed a protest that turned violent Friday night in Des Moines.
Chief Dana Wingert said a "successful and peaceful protest" was undermined when a small group of individuals incited violence.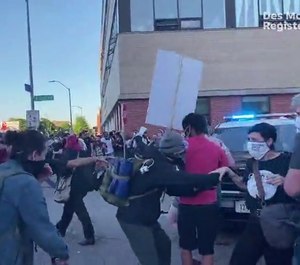 "The events that followed were not indicative of what we expect to see in Des Moines," Wingert said. "We're better than that."
Police said only three officers were directing traffic at the event when a group swarmed and attacked an officer, damaging his vehicle.
"That's what prompted our response. We didn't even step foot out of this building until one of our people was attacked," Sgt. Paul Parizek said.
Police said 18-20 protesters were arrested Friday night. They will be charged at least with failure to disperse and could face other charges.
"A small group of instigators came here with an agenda," Parizek said.
Police said twenty police officers suffered a variety of minor injuries due to the violence. Rocks and bricks were thrown at officers.
Officers will be in place Saturday at another planned protest and said they will respond accordingly.
McClatchy-Tribune News Service