Chief who lost part of arm in fireworks accident continues long road back to work
When the explosion happened, Chief Mike Diebold thought it was the end of his life, but after six months of recovery, he intends to go back to work
---
By Chuck Biedka
The Valley News-Dispatch, Tarentum, Pa.
LEECHBBURG, Pa. — Surviving a near-fatal fireworks explosion in June was only the first challenge.
As he sat in a hospital bed in Pittsburgh's Uptown section, Leechburg police Chief Mike Diebold said he thought he was at the end of his life. He was burned and suffering from the traumatic amputation of his left arm below the elbow.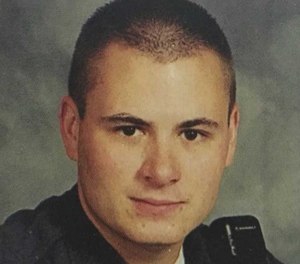 He was in shock.
"When I first got hurt, I thought it was all over," said Diebold, who was injured when a firework misfired during a Leechburg fire company carnival on June 24. "I was like, 'What am I going to do?' It was a dark time. I was mad, angry, frightened, you name it; and, yes, I cried.
"'What about Danielle?' " he asked himself, referring to his then-fiancee, Danielle Reinke. "'How am I going to help with the kids, Kyle and Gracie?' Then the hospital brought some people in. They'd been through this type of thing, and they all told me life is only what you make it. And that sunk in."
After six months of recovery, Diebold, 40, intends to go back to work. All that stands in the way is passing a medical evaluation as part of an agreement he drummed up with the borough. Until that happens, he will be on paid leave.
Adapting to a new arm
Within three months of the accident, Diebold began to make regular visits to Union Orthotics & Prosthetics in Lawrenceville.
He got a lasting jolt on Sept. 6.
Diebold was being fitted for a fiberglass and carbon arm that uses a cable and pulley system.
He was supposed to control the arm with the muscles of his right shoulder, but he'd spent little time learning to do so.
When one of the prosthetic specialists accidentally dropped a marker pen, Diebold knew what to do. He bent over and used the claw-like "hand" to pick up the marker.
"I can do this. I finally know I can do this, really do it," he realized at the time. "I know I can learn how to use this arm and go back to work."
He'd also figured out how to change his son's diapers one-handed.
Encouragement also came from Lance Johnston of Eighty Four, Washington County, who had an arm and a leg amputated four years ago after a motorcycle wreck along Route 136. Johnston answered questions as only a fellow amputee can about prosthetics and pain.
"This is a hard thing for anybody," Johnston told Diebold at a prosthetics fitting. "But I know there are so many people worse off than me."
The men compared notes about phantom pain seeming to come from the amputated limb and how to get on with life. Diebold said Johnson's help fortified his confidence.
Danielle, whom Diebold married in July in a ceremony on the banks of the Kiski River, said she started to see a different side to him.
"It was almost like a warrior came out in him. 'I am determined. I'm going to make it,' " Danielle Diebold said.
Mike Diebold spent hours on a computer each day, researching prosthetic technology and reading about service members who suffered traumatic amputations and returned to active duty.
"He read the success stories," Danielle Diebold said. "He's our role model, the strongest man we know. He is our hero. When he talks about us being a support, he truly doesn't know what he means to us."
Work at the firing range
Three months after receiving a permanent prosthetic arm, Diebold passed annual firearms and other recertification tests for the Municipal Police Officers' Education and Training Commission (MPOETC).
On a crisp and clear morning at Vandergrift Sportsman Club, Diebold put on his pistol belt and holster, put the pistol in the holster and easily used the claw to load ammunition for pistol magazines. He followed commands from a range master to take the MPOETC test.
Diebold surprised himself by shooting better than he had the year before — even with a shotgun that he had not fired since the accident.
It took him a few minutes to pump the action open and closed using the claw. But aligning the sights was the same as before.
"It really feels good," Diebold said.
"He is recertified," state police Cpl. Adam Reed confirmed a few days later.
About that time, Diebold's doctor cleared him to go back to work, with no restrictions.
Dr. Maria F. Twichell wrote in a Dec. 5 letter, "It is no longer medically necessary for him to be excused from work or restricted to light duty at this time. He is medically cleared to return to full duty work beginning 12-11-17."
But before that could happen, the borough and Diebold would need to iron out the details of his return. They reached an agreement announced Dec. 19 that includes the administration of a medical test that has not yet been scheduled.
The Leechburg police chief's job isn't just administrative. The chief responds to police calls, as well as preparing the schedule and budget and overseeing the department's three full-time and several part-time officers. He is also a detective for the county drug task force.
Details under the Dec. 19 agreement about who will perform the medical exam, and when it will be performed, hadn't been determined by Christmas Eve.
The agreement calls for Diebold to be examined by a doctor acceptable to both Diebold and the borough, who would ensure that the chief is able to do the job.
Officer offers hope
Since his accident, Diebold has talked with police officers who have had amputations and returned to duty.
Pocatello, Idaho, Patrolman Carlos Lugo, who has a prosthetic left arm, telephoned Diebold soon after he read about his injuries.
Lugo's arm was blown off during his second Army tour in Afghanistan. He recovered, completed instruction at a police academy and is a regular night shift patrolman.
Lugo, 30, told Diebold that working as a cop is still possible.
"I told him not to give up. You can do it," Lugo said.
Diebold listened to his advise and added a magnet to his work arm. It holds a flashlight.
Community supportive
The community's encouragement, from the start of his ordeal, has amazed him, Diebold said.
Soon after the accident, neighbors and friends held a vigil. And on the day he went home from UPMC Mercy, the first of several fundraisers took place.
Tickets to spaghetti dinners sold out in minutes, and hundreds of T-shirts were sold with all the money going to a campaign to help pay medical expenses. An account was established at the Leechburg branch of First Commonwealth Bank.
"The last information I have is that it's close to $50,000," Diebold said. He said the money would be used to pay for medical bills and a prosthetic arm. Bank officials declined to comment about the account.
Diebold said repeated demonstrations of concern, even by people he'd arrested over his 21 years as a police officer, were touching.
When he returns to work, Diebold plans to visit Children's Hospital of Pittsburgh of UPMC to talk to young ones without limbs.
"Anytime I go out, young people come around and ask about the arm," Diebold said.
He doesn't mind talking about the experience.
"Life is different. You know what is important, who is important, and you want to get back to life regardless of what you do," he said. "Understand, if I were a carpenter, I'd want to do that again. But I'm a cop, and I love serving the public," he said.
People almost always ask him what happened, and Diebold said he is ready to talk. The accident was horrible, but maybe the experience can improve things for others, he added.
"Over the years, there has been a picture painted about bad cops but not good cops. Well, the arm is an icebreaker. People want to talk about being a cop and the arm. It's an opportunity to share."
©2017 The Valley News-Dispatch (Tarentum, Pa.)
McClatchy-Tribune News Service