Detectives probe LA gunfight scene where 2 deputies wounded
One suspect died, another was taken to a hospital and a third is in custody
---
Associated Press
LOS ANGELES — Homicide detectives are investigating the scene of a gunbattle that wounded two Los Angeles County sheriff's deputies and left a suspect dead.
The detectives on Thursday were poring over the site at Salazar Park in East Los Angeles following the shooting Wednesday evening.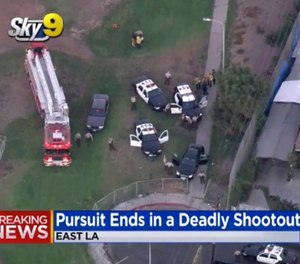 The gunbattle happened after a report of someone in a car pointing a gun at people led deputies to follow the vehicle.
The Sheriff's Department says the vehicle went into the park, abruptly stopped and one person jumped out and opened fire.
Two deputies were hit and others returned fire.
One suspect died, another was taken to a hospital and a third is in custody.
Sheriff Jim McDonnell says the two deputies who were shot were in serious but stable condition and their wounds were not life-threatening.
Copyright Associated Press. All rights reserved. This material may not be published, broadcast, rewritten, or redistributed.