Ky. cop rolls cruiser several times after rock thrown through windshield
A Ky. deputy lost control of his vehicle after a rock crashed through his windshield and hit him in the face
---
Jack Brammer
Lexington Herald-Leader
BOYLE COUNTY, Ky. — A Boyle County deputy was injured Sunday morning when a rock tossed from a moving vehicle crashed through his cruiser's windshield and hit him in the face.
The deputy, identified by the sheriff's office as Philip Dean of Boyle County, lost control of his vehicle about 4:45 a.m., which rolled over several times.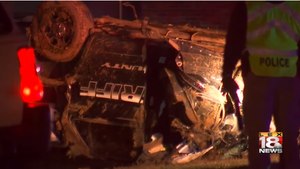 The sheriff's office said Dean was sent to the hospital and his injuries were non-life threatening.
The deputy was en route to investigate reports that someone was throwing rocks at semis just outside of Danville on KY 134 in the Old Bridge area on Lexington street.
Two juveniles have been charged in connection with the incident, according to the Boyle County Sheriff's Office.
———
©2019 the Lexington Herald-Leader (Lexington, Ky.)
McClatchy-Tribune News Service