Off-duty LEO fatally shot during carjacking in Puerto Rico
The officer was shot in the back and arm by a suspect during the incident
---
By PoliceOne Staff
VEGA BAJA, Puerto Rico  — An off-duty officer was fatally shot Saturday while intervening a carjacking attempt.
According to the Officer Down Memorial Page, Officer Jesus Marrero-Martinez and a friend had arrived at a club they didn't realize was closed when they were confronted by three masked men in the parking lot. When the men demanded their keys, Marrero-Martinez's friend relinquished them, but the officer identified himself and drew his weapon.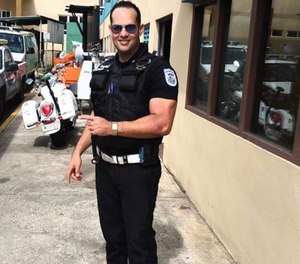 Marrero-Martinez fatally shot one of the suspects in an exchange of gunfire, but was killed by a second suspect who shot him in the back and arm. The two remaining suspects fled the scene after the incident.
Police are asking anyone with any information on the suspects to contact them.
Marrero-Martinez was with the Manatí Municipal Police Department for 16 years and survived with his wife and four children.