Paralyzed Ky. deputy sues city, police
Jaime Morales alleges the PD did not properly train members of a special response team who were called to help arrest a fugitive
---
By Beth Musgrave and Karla Ward
Lexington Herald-Leader
GEORGETOWN, Ky. — A Scott County sheriff's deputy who was paralyzed after allegedly being shot by a Georgetown police officer during an attempt to arrest a fugitive is suing the city of Georgetown and its police department.
In a lawsuit filed late Friday, Jaime Morales alleges the Georgetown Police Department did not properly train members of a special response team who were called to help U.S. Deputy Marshal Roger Daniel arrest Edward Reynolds, a fugitive from Florida, at the rest area off of Interstate 75 in Scott County on Sept. 11, 2018.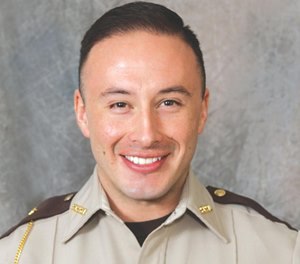 The Scott County Sheriff's Department and the Georgetown Police Department had a joint special response team at the time of the Sept. 11 incident.
The lawsuit alleges that Georgetown officer Joseph Enricco shot Morales, and Enricco had only completed basic response team training one month prior to the Sept. 11 incident, had not been on any serious response team call outs and had no vehicle assault training.
Enricco has since resigned from the police department, according to documents obtained by the Lexington Herald-Leader through an Open Records Act request.
"Officer Enricco lacked the experience, training or knowledge to serve on the call-out to apprehend Reynolds," the lawsuit says.
Georgetown Police Chief Mike Bosse and Lt. James Wagoner, who oversaw the serious response team, should not have allowed Enricco on the call, the lawsuit said.
Moreover, Wagoner did not communicate a detailed plan before the group of Scott County deputies and Georgetown officers approached Reynolds' car, the lawsuit says.
"It's very compelling what a poor job the Georgetown Police Department did in training and commanding the SRT team," said Thomas Miller, one of Morales' attorneys.
An attorney representing the City of Georgetown said in a statement Friday afternoon that his office "will be reviewing the complaint and determining all possible defenses."
Scott Miller, the attorney representing the city, said in the statement that "we certainly empathize with Deputy Jaime Morales and his family and are disappointed that a lawsuit has been filed. However, now that the lawsuit is pending, we will meet our responsibility of vigorously defending our clients and officers in their efforts in apprehending a very dangerous individual."
The lawsuit says Scott County deputies Jordan Jacobs and Morales were standing next to each other when they approached Reynolds' window.
"Enricco was positioned to the rear-right of Morales and was not in a position to discharge his firearm because Morales was between him and Reynolds," the lawsuit says.
Morales used his baton to smash out Reynolds' window after Reynolds ignored commands to drop his weapon. Morales then dropped his baton and grabbed his weapon after Reynolds attempted to load his handgun, the lawsuit says. Reynolds was killed.
All three officers discharged their weapons. Only Enricco was in the appropriate position to have fired the shot that paralyzed Morales, the lawsuit alleges.
A forensic expert hired by Morales' lawyers said the evidence shows Enricco was the officer that shot Morales.
The expert's report states that the bullet entered Morales' right shoulder from the back, crossed his spine and came to rest in the left side of his chest in the armpit area.
Retired Paris Police Chief Kevin Sutton, who was also a commander of the Lexington Police Department's special response team, said in an affidavit attached to the lawsuit that the officers were not briefed appropriately by Wagoner and did not have the appropriate training needed to apprehend Reynolds.
"Minimal training had been received in basic tactics with no coordinated vehicle take down training being provided to any of the three officers," Sutton wrote in his affidavit. "The location of all of the officers as they approached the vehicle was inappropriate."
Enricco did not have the appropriate training to be on the call, Sutton said.
"Officer Enricco's lack of training led him to discharge his weapon, injuring Deputy Morales," Sutton wrote in his 26-page report.
A Kentucky State Police investigation into the incident refused to say which officer shot Morales, in part because the bullet that struck Morales was still in his body and could not be analyzed. A Scott County grand jury did not return any indictments surrounding the Sept. 11 shooting of Reynolds.
It was only after the grand jury failed to return in an indictment in March that police acknowledged that Morales was shot by a fellow officer and not Reynolds.
Named in the lawsuit are Georgetown City Council members, Mayor Tom Prather and Lt. Wagoner.
The lawsuit asks for unspecified monetary damages. Morales is permanently paralyzed and will need future medical care.
"We want to see Deputy Sheriff Morales treated fairly," his attorney, Thomas Miller, said. "He's going to have a very difficult time getting decent employment, and he's going to require lots of care.
"This was a very healthy, active young man who dreamed of going a long way as a police officer."
©2019 the Lexington Herald-Leader (Lexington, Ky.)
McClatchy-Tribune News Service