Struggle leaves 2 Calif. officers wounded, suspect dead
One of the officers was shot in the torso, lower leg and head and the other officer was shot in the torso
---
By Scott Smith
Associated Press
LOS BANOS, Calif. — Two police officers were hospitalized with gunshot wounds after trying to restrain a man suspected of breaking into his estranged wife's central California apartment in a struggle that left the suspect dead, authorities said.
One of the officers, a six-year veteran, was shot in the head, torso and lower leg Monday, Los Banos Police Chief Gary Brizzee said. The other officer, who joined the department a year ago, was shot in the torso. Both were in stable condition at Modesto-area hospitals.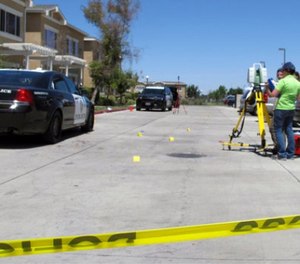 A child of the 39-year-old suspect, Norberto Reyes, called to report that his father had broken into the family's apartment through a window, authorities said.
An officer arrived and asked Reyes, who was standing in the kitchen near the front door, to step outside so they could speak. Reyes refused and became argumentative, and the two started struggling, Brizzee said.
The officer used his stun gun, but Reyes removed the metal probes and kept resisting. A second officer arrived and tried to help restrain him. During the struggle, both officers and the suspect were shot, Brizzee said.
Helicopters transported them from the small farming community in the San Joaquin Valley to hospitals, where the suspect died.
Brizzee would not say if the suspect was armed with his own gun or was able to use one of the officers' weapons. He didn't offer any other details, citing the ongoing investigation.
"This has been a tremendously tough day for us. But the men and women I work with are resilient and we'll get through this together," Brizzee during a brief news conference.
The man had not lived with his family for at least a year. Brizzee would not say if his estranged wife was in the home or who witnessed the shooting.
The department had dealt with the man a few years ago on a drug-related case, Brizzee said.
Copyright Associated Press. All rights reserved. This material may not be published, broadcast, rewritten, or redistributed.