Texas police chief missing after being knocked overboard from fishing boat
The police chief has been missing since Friday when he fell out of his boat without a life jacket
---
Nicole Hensley
Houston Chronicle
KEMAH, Texas — The Coast Guard and a team of volunteers continue to comb the Galveston Bay for the Kemah Police chief after a wave from a large vessel threw him overboard Friday.
Chris Reed, 50, has been missing since 4 p.m. Friday, when he fell out of his boat without a life jacket, Coast Guard Lt. Cmdr. Caren Damon said at a news conference late Friday.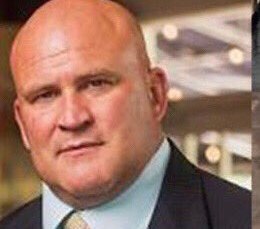 About 15 agency vessels and 25 volunteer vessels were searching the water Saturday, as numerous volunteers walk the shoreline. Texas City officials have a waiting list for additional volunteers.
Reed and his wife launched the boat in the Clear Lake area, according to police radio traffic. She saw him fall overboard north of the levee.
"Large boat came by and knocked her husband off the boat," a dispatcher said. "She hasn't seen him since."
Texas City Police Department received the emergency call and about a dozen agencies responded to the bay, including the Coast Guard. Helicopters and a drone team are also involved.
Damon vowed to keep crews on the water searching for Reed through the night and "for as long as we believe he is viable on the surface."
Reed, an Army veteran, has served as Kemah police chief since 2016 and is a trustee for Clear Creek ISD, where his wife is a teacher. He has three children.
Texas City Police Chief Joe Stanton called Reed "a great cop."
"He was a big part of Kemah and everything they were accomplishing and doing over there," Stanton said at a news conference near the levee. "He's one of ours and we're out there and we're going to find him."
The search prompted an outpouring of social media messages, including several tributes from members of Houston's wrestling community. Reed founded the Houston Area Wrestling Foundation for at-risk youth.
"I pray that somehow, the toughness he got from wrestling, military, and law enforcement, and fighting helps him survive long enough for authorities to find him today as he was knocked off a boat with a nasty undertow," wrote Mike Moor, wrestling director of W4R Training Center in Tomball.
Reed, a graduate of Sam Houston State University and LeTourneau University, previously worked as the city manager in Nassau Bay and at the League City Police Department as its assistant chief.
"Our prayers are with (Reed's wife) Jana and her family. Chris has and always will be a beacon and light for children. We are at a loss of words and hope that we find him," Clear Creek ISD said in a statement.
———
©2019 the Houston Chronicle
McClatchy-Tribune News Service