2 Mo. officers shot, suspect barricaded in home
The officers' body armor apparently saved both from serious injury
---
Associated Press
BELLEFONTAINE NEIGHBORS, Mo. — A gunman shot two suburban St. Louis police officers in the chest before barricading himself inside a home Thursday, but bulletproof vests apparently saved both officers from serious injury.
The shooting happened in the city of Bellefontaine Neighbors. St. Louis County police spokesman Shawn McGuire said both Bellefontaine Neighbors officers — a 44-year-old man and a 25-year-old woman — were hospitalized with bruising and were being checked for internal injuries. But, he said, both are expected to recover.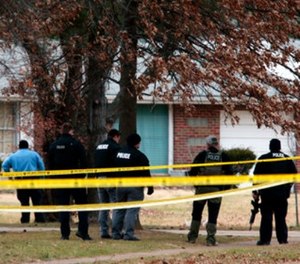 "By God's will, both officers were struck in a location where they had protection," McGuire said.
Police had been looking for a 37-year-old man wanted for questioning after a Wednesday night report of shots fired, McGuire said. Officers saw the suspect walking in the neighborhood around 7:15 a.m. Thursday.
A witness, Steve Jones, told reporters that the officers were trying to reason with the man when they suddenly tackled him on a lawn. He said the officers pepper sprayed the suspect when he started to stand up, and that the man then shot the officers from about 15 feet (4.5 meters) away. It wasn't immediately known if the officers shot back.
The man then ran about a block and barricaded himself inside a house. Police used a loudspeaker to urge the man to surrender.
McGuire said the man didn't appear to be holding hostages. Police aren't sure if the suspect lives in the house, which is surrounded by police, including a tactical unit.
"It's still an active scene," McGuire told media at the scene. "We have officers that are in danger right now, right down the street from us."
Bellefontaine Neighbors Mayor Bob Doerr told the St. Louis Post-Dispatch the vests were purchased for officers about a year ago.
Two police officers were shot in north St. Louis County in an apparent standoff. According to officials, the shots fired at the officers hit their bulletproof vests. pic.twitter.com/5NqM1ZscwL

— Arielle Clay (@ArielleABC3340) December 14, 2017
This morning, two uniformed police officers of the Bellefontaine Neighbors PD were shot in the line of duty after an encounter with a suspect in the 10100 block of Bellefontaine Road. Thankfully, the officers are expected to survive.

— St. Louis County PD (@stlcountypd) December 14, 2017
Copyright Associated Press. All rights reserved. This material may not be published, broadcast, rewritten, or redistributed.