2 Ohio officers injured in shooting
One officer is in critical condition after being shot while serving a warrant
---
Bethany Bruner
The Columbus Dispatch
COLUMBUS, Ohio — Two Columbus police officers attempting to serve an arrest warrant were injured in a shooting on the city's Northeast Side Thursday morning.
One officer is in critical condition and the other has a hand injury.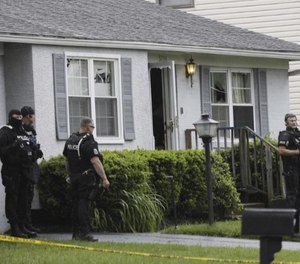 A report of shots being fired came across police radios around 8:20 a.m. Thursday on the 3200 block of Chelford Drive.
The officers, who have not been identified, were part of a joint operation, possibly related to a narcotics investigation, and involving multiple agencies, said Keith Farrell, president of the Fraternal Order of Police Capital City Lodge No. 9, which represents Columbus police.
Farrell said the officer who was shot was in surgery at Mount Carmel Hospital East, where he and others immediately gathered in a show of support.
Renee Brooks, 60, who lives across the street, said her friend of more than 30 years owns the home and lives there with a dog and cat.
"This is a shocker to me," she said. "We go to lunch. We laugh, we talk almost every day. She stays to herself."
Brooks said she heard the door being broken open, went outside and saw tactical officers enter the home followed by a couple of shots fired from what appeared to be inside. That was followed by return gunfire from the outside through windows, she said.
Other officers then entered. "They were dragging the officer out," Brooks said. "One of them said, 'Hang in there buddy.' "
Police used hand restraints and walked the woman from the house shortly after, Brooks said.
She said her friend, who is in her 60s, retired several years ago from the Defense Supply Center in Whitehall.
Brooks said there was no unusual traffic or visitors at the home except an occasional visit from the woman's 6-year-old grandson.
At the hospital, several officers had gathered.
"There's a lot of standing around waiting," Farrell said. "It's a very serious situation."
"For those who pray, please do. For those with positive vibes, we need them," Columbus police tweeted.
"Obviously, these are unprecedented times and we're part of that," said Farrell. "We're no different. Still, we will continue to be there for the public."
McClatchy-Tribune News Service