4 officers shot dead in Wash. coffee shop ambush
Slain officers were sitting in the coffee shop in Lakewood, Washington, reading their computers before the start of their shifts
---
Editor's Note: PoliceOne Columnist Dave Smith says he doesn't like to write when he's angry. Trouble is, that's when he does some of his best work. In an article written just hours after the first reports of this evil act were being reported here and across the Internet, Smith says the media will try to "understand" the murderous miscreant who took the lives of four peacekeepers in a Seattle suburb. It is time to stop "understanding" and start condemning. Be sure to check out Smith's excellent article.
CNN.com
LAKEWOOD, Wash. — Four police officers were fatally shot Sunday in what police said was an ambush in a coffee shop near Tacoma, Washington.
The officers were sitting in the coffee shop in Lakewood, Washington, before the start of their shifts, reading on their computers, when the shooting occurred, said Sheriff's Department spokesman Ed Troyer. He told reporters that authorities believe the officers were meeting and going over cases or doing paperwork.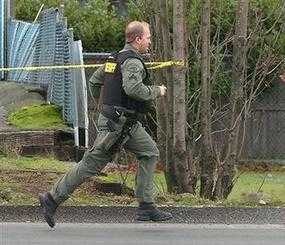 "This was a targeted, selected ambush," Troyer told reporters. He said a gunman came inside, opened fire and shot all four officers. Two baristas and other customers inside the shop were unharmed -- "just the law enforcement officers were targeted."
Authorities know the identity of the four fallen officers, and were in the process of notifying family members and their departments, he said. He would not say what agencies the officers were from, but said, "they're all from this area."
A $10,000 reward was offered for information leading to an arrest, he said.
Police are looking for one man and possibly a second person in the attack, which occurred about 8 a.m., Troyer said. The suspect is described as an African-American man, between 5 feet 7 inches and 5 feet 10 inches tall, wearing a black coat and blue jeans, with a "scruffy" appearance, he said. The man is believed to have fled the coffee shop on foot, he said.
Officers were working on getting additional descriptions from witnesses.
"We're doing everything we can," Troyer said. Authorities were conducting searches in numerous locations, he said, and dogs had been brought in to attempt to track the suspect.
There were no known threats against police before the incident, Troyer said.
Lakewood is about 40 miles south of Seattle and 10 miles southwest of Tacoma.
Bystanders gathered outside the coffee shop, some of them in tears.
The Forza Coffee Company is on the edge of McChord Air Force Base. Spokesman Bud McKay said the base was not shut down, but security was ramped up around the perimeter as a precaution.
The military has offered assistance to police, he said, but it has not been requested.