No charges for Calif. cop who fired warning shot amid struggle with teen
The DA said prosecutors would not be able to prove beyond a reasonable doubt that Kevin Ferguson used excessive force as he tried to make a citizen's arrest
---
By Christopher Weber
Associated Press
LOS ANGELES — Prosecutors will not charge a Los Angeles police officer who pulled out a gun and fired a warning shot during an off-duty scuffle with a 13-year-old boy that was caught on video and led to protests after the teen was arrested but the officer was not, officials announced Wednesday.
The Orange County District Attorney's Office said prosecutors would not be able to prove beyond a reasonable doubt that Kevin Ferguson used excessive force as he tried to make a citizen's arrest of the boy. More than a dozen other teenagers shouted at the officer to let him go.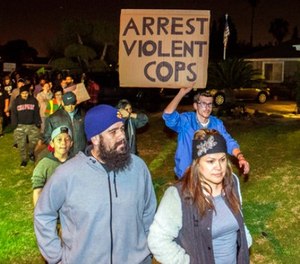 Cellphone videos showed Ferguson exchanging angry words with several kids who had walked across his lawn in suburban Anaheim, south of Los Angeles. The argument turned physical with the 13-year-old.
At one point, another boy shoved Ferguson, knocking him and the 13-year-old over a hedge. After trying to hold on to the squirming boy for several minutes, Ferguson pulled out a gun and fired it into the ground, sending the teens running and screaming. No one was seriously hurt.
Prosecutors called Ferguson's actions "unwise, immature and flat-out horrible" but said they did not violate the law during the Feb. 21, 2017, confrontation.
"The conduct of Mr. Ferguson on that day ... did endanger a large group of juveniles" but did not rise to the level of a crime, Deputy District Attorney Ebrahim Baytieh said at a press conference.
The boy and one other teen were arrested, but Ferguson was not, fueling the anger of hundreds of protesters who took to the streets in the nights that followed. Dozens were arrested after blocking traffic.
In one of the videos, which was posted on YouTube and spread on social media, Ferguson said he had heard the boy say he was going to "shoot" him, but the teen insists he said he was going to "sue" him.
Baytieh conceded that a "reasonable person can hear shoot" instead of sue.
The 13-year-old boy, whose name has not been released, told investigators that the physical struggle came after the off-duty officer referred to a teen girl with an offensive slur, spurring him to defend her honor.
Ferguson's attorney, Larry Hanna, has said his client feared for his safety and that of his sick father's. He says Ferguson had reported the teens to police before.
Ferguson was put on desk duty for the Los Angeles Police Department at the time, but his current status is not clear. The LAPD is conducting its own investigation.
Copyright Associated Press. All rights reserved. This material may not be published, broadcast, rewritten, or redistributed.