Calif. sheriff's deputy shot in face out of surgery
Nicory Marquis Spann was arrested and held without bail on suspicion of attempted murder of Deputy Alex Ladwig
---
By Don Thompson
Associated Press
SACRAMENTO, Calif. — A Sacramento County Sheriff's deputy who was shot in the face with his own service weapon at a light-rail station is out of surgery to repair his jaw and is in stable condition Wednesday, officials said.
Nicory Marquis Spann, 27, of Sacramento, was arrested late Tuesday and was being held at the Sacramento County Jail without bail on suspicion of attempted murder of a sheriff's deputy following the shooting Tuesday night.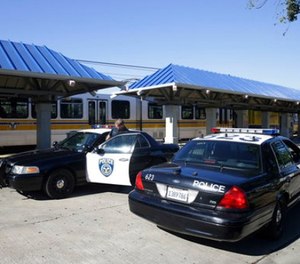 Sheriff's department spokesman Sgt. Tony Turnbull identified the wounded deputy as Alex Ladwig, 25, a four-year veteran of the department.
The shooting happened at a Regional Transit light rail station near Watt Avenue and Interstate 80 in Sacramento after Ladwig and Spann got into a fight, Turnbull said. It's not clear what started the fight.
Turnbull, the Sacramento County District Attorney's Office and the county public defender's office could not say if Spann had an attorney or will be assigned one when he first appears on court on Friday.
Turnbull said the deputy approached Spann on the lower platform of the Regional Transit station shortly before 6 p.m. Tuesday. He did not know why Ladwig contacted Spann but said Ladwig was working as a Regional Transit officer whose responsibilities include checking fares and dealing with loitering or people who appear to be under the influence of drugs or alcohol.
"Unprovoked, Spann violently attacked the deputy and began fighting with him," Turnbull said in a statement. "At some point during the fight, Spann was able to get the deputy's gun and fired two shots. One of the shots struck the deputy in the face."
The deputy's gun has been recovered.
Spann was arrested late Tuesday after a SWAT team searched for him room by room at a nearby hotel where he was hiding.
"He was hiding in an alcove," Turnbull said.
The deputy was conscious and talking as he was being transported to a hospital by ambulance before undergoing surgery Tuesday night at Mercy San Juan Medical Center, Turnbull said.
Ladwig first radioed to say he was in a fight with a suspect near on the light rail platform, and minutes later radioed back to say he had been shot.
Other deputies and officers with Sacramento police and the California Highway Patrol responded quickly. Among them were deputies on a sheriff's helicopter who saw the suspect run into a Red Roof Inn hotel.
About 100 officers were at the scene, and a SWAT team took about three hours to find the suspect.
The light rail station was closed overnight, while traffic was blocked for several blocks around the hotel as officers searched it.
Copyright Associated Press. All rights reserved. This material may not be published, broadcast, rewritten, or redistributed.