Gang member charged in cop killing: 'I should have smoked 'em quicker'
A gang member charged with murder in the shooting death of a police officer made disturbing comments about the slaying in a taped interview
---
By PoliceOne Staff
WHITTIER, Calif. — A gang member charged with murder in the shooting death of a police officer made disturbing comments about the slaying in a taped interview conducted in a jail medical ward.
Michael Christopher Mejia admitted in a police interview that he shot another officer after he killed one officer and his own cousin.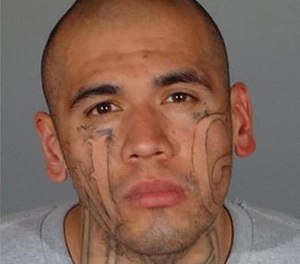 Mejia's comments were revealed Thursday during a hearing to determine if there was enough evidence for him to stand trial, NBC Los Angeles reported. Mejia, 26, is charged with murder in the fatal Feb. 20 shootings of Officer Keith Boyer and Roy Torres.
"I guess you guys have everything down — smoked my cousin, smoked the cop. ... I mean, what else do you guys want? I shot another cop," Mejia said in the interview. "I did it, I mean, I did it ... both of 'em, all three of them had it coming."
Mejia fatally shot his cousin and stole his car before crashing into two other cars. He pulled out a semi-automatic gun and opened fire on Boyer and Officer Patrick Hazell when the officers responded to the traffic collision. Hazell was shot in the abdomen and is recovering, the news station reported. Mejia had been recently released from jail at the time of the incident.
Mejia said he noticed the officers didn't have their weapons drawn and he "delayed it."
"I should have smoked 'em quicker," he said.
When asked if he had anything to say to the Whittier Police Department, Mejia said they needed to "train your guys better."
"They just got a taste of an L.A. gang member, real L.A. gang member. You know what I mean? And, nope, I don't feel sorry," he said.
Prosecutors have yet to decide if they will seek the death penalty against Mejia. He is also charged with one count each of attempted murder of a peace officer, carjacking and possession of a firearm by a felon with two prior convictions.