Man kills Census Bureau guard, leads DC police on pursuit
Armed man kidnapped a woman, killed a Census Bureau guard and led police on a pursuit before an exchange of gunfire left him and an officer wounded
---
By Jessica Gresko and Amanda Lee Myers
Associated Press
WASHINGTON — A man kidnapped a woman, fatally shot a Census Bureau guard and led police on a car chase through Maryland and Washington, before authorities cornered him in an exchange of gunfire that left the suspect and a police officer wounded, authorities said.
The suspected shooter was identified Friday as Ronald Anderson by Prince George's County State's Attorney's Office spokeswoman Gina Ford. Anderson's 48th birthday was Thursday, the same day as the crime spree.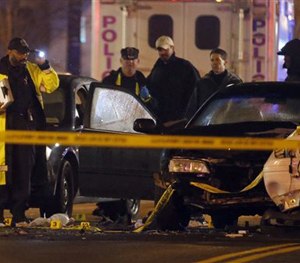 Anderson's condition wasn't immediately available Friday. Neither was the wounded officer's. Police said the woman who was allegedly kidnapped was found safe.
FBI Baltimore spokeswoman Amy Thoreson said the shooting was not terrorism-related and that the Census Bureau was not targeted. Metropolitan Police Department Chief Cathy Lanier said it's believed to be domestic in nature.
The shooting "was a tragic and scary event for the Census Bureau family," agency Director John Thompson said in a Friday statement.
"We know the situation last night was tense, especially for the hundreds of employees who sheltered in the building and in their cars for several hours not knowing when the incident would be over," he said. " ... We appreciate everyone's cooperation as law enforcement worked to clear the scene to make sure we were safe and free from danger."
Thompson also said his prayers go out to the family of the guard, "who was killed in the line of duty protecting us and other workers."
The guard, identified as Lawrence Buckner, died at Prince George's Hospital Center after Thursday evening's chase and shooting, said Erika Murray, a spokeswoman for the hospital in Cheverly, Maryland. She did not give Buckner's age.
Buckner was a contractor, working for the federal government through the Hunt Valley, Maryland-based company Master Security, according to a Homeland Security statement released Friday.
The normally bustling H street corridor in Washington's northeast — where the chase ended — remained closed during rush hour Friday morning as police continued their investigation there. Local television showed yellow police tape still strung across one of the Census Bureau gates in the Maryland suburbs early Friday.
The Census Bureau headquarters opened two hours late Friday morning, and workers were allowed to take unscheduled leave or to telework. Workers who had to shelter in place after the shooting Thursday night were granted excused absences.
The officer and suspect were both conscious when they were taken for medical care, Lanier said at a news conference Thursday.
Chief Lanier said a guard at a gate of the U.S. Census Bureau in Suitland, Maryland, saw two people fighting in a car that matched the description of a vehicle described in a report of an armed kidnapping about 6 miles away in northeast Washington.
When the guard approached the car, the man shot him and took off, crossing the border into the nation's capital and firing at police who had begun to chase him, Lanier said.
He fired again at them during the chase before police blocked him and collided with his car, Lanier said. Cornered, the suspect opened fire again and police shot back. During the exchange of gunfire, both the suspect and an officer were wounded, she said.
Copyright 2015 The Associated Press
Copyright Associated Press. All rights reserved. This material may not be published, broadcast, rewritten, or redistributed.