Pa. trooper wounded during gun battle is out of the ICU
Cpl. Seth Kelly was moved out of the ICU and remains in the hospital as he recovers from gunshot wounds to his neck, shoulder and thigh
---
By Pamela Lehman
The Morning Call (Allentown, Pa.)
FOUNTAIN HILL, Pa. — Cpl. Seth Kelly, a Pennsylvania state trooper wounded during a gun battle Nov. 7 in Plainfield Township, has been moved out of the intensive care unit at the hospital where he has been undergoing treatment, according to state police.
Kelly remains at St. Luke's Hospital-Fountain Hill, where he continues to recover from gunshot wounds to his neck, shoulder and thigh, authorities say. On Wednesday, Kelly's condition improved enough that he was moved out of the ICU, said Capt. Richard D'Ambrosio, commander of the Troop M barracks where Kelly works.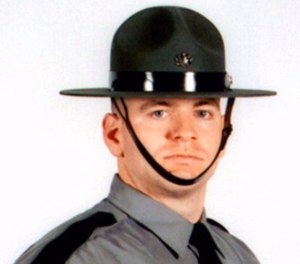 The 13-year veteran of the state police and husband of a Forks Township detective still has a lengthy recovery before him, authorities say.
Kelly was one of two troopers involved in a routine traffic stop along Route 33, authorities say. The man charged in Kelly's shooting, 22-year-old Daniel Clary, fought with troopers, trying to grab one trooper's handgun from his holster and dashing to his car, where he grabbed a gun and opened fire, state police say. Troopers returned fire and Clary was also shot several times in the melee.
Northampton County District Attorney John Morganelli said the troopers' use of force was justified, saying both Kelly and Trooper Ryan Seiple showed restraint during the incident. Authorities say Kelly likely saved his own life by applying a tourniquet to stem his blood loss from his wounds.
Clary remains in jail under $1 million bail, where he is awaiting trial on charges that include two counts of attempted murder of a police officer.
First Deputy District Attorney Terence Houck said he will be seeking a conviction and a sentence under which Clary is "locked up for the rest of his life."
©2017 The Morning Call (Allentown, Pa.)
McClatchy-Tribune News Service