Police: Pa. trooper saves own life with tourniquet
Police said Cpl. Seth J. Kelly will undergo another surgery to remove a bullet
---
Associated Press
BETHLEHEM, Pa. — A Pennsylvania State Police trooper who was shot several times during a traffic stop remained hospitalized in critical condition Wednesday as authorities released more details of the violent confrontation along a busy highway.
Cpl. Seth Kelly, a 13-year veteran, likely saved his own life by applying a tourniquet after he was hit by gunfire Tuesday morning in Plainfield Township, north of Philadelphia, state police Capt. Richard D'Ambrosio said at a news conference.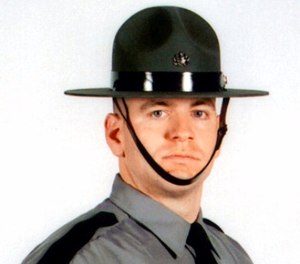 Kelly, 39, suffered wounds to his neck and shoulder area and to his leg in the close-quarters gunfight, and was set to undergo another surgery to remove a bullet.
"He's battling. He's certainly not out of the woods by any means, but ... he is a very strong individual and he displayed a will yesterday that he wanted to live and get through this," D'Ambrosio said.
The suspect, 22-year-old Daniel Khalil Clary, of Effort, faces charges that include attempted murder of a law enforcement officer and aggravated assault. Clary, who was shot and remains hospitalized, has given a statement to police.
"He's not denying his involvement," said Lt. Joseph F. Sokolofski.
Kelly was helping another trooper arrest Clary, whom they suspected of driving under the influence of marijuana, when Clary began fighting with the troopers, police said. The struggle lasted nearly two minutes, and at one point all three men were "wrestling and rolling around" the right lane of busy Route 33 as cars and trucks whizzed by them on the left, D'Ambrosio said.
Despite being hit with a stun gun, Clary managed to break free, retrieved a semi-automatic pistol from his car and opened fire on Kelly and Trooper Ryan Seiple, authorities said. Both troopers returned fire, hitting Clary several times. Clary then fled, driving himself to a hospital where he was taken into custody.
Seiple, 31, received a minor injury during the scuffle but was not shot. Officials credited emergency medical workers at the scene and staff at St. Luke's Hospital in Fountain Hill, where Kelly was flown, for saving his life.
Officials are awaiting the results of a blood test to see what Clary had in his system.
Northampton County District Attorney John Morganelli said Wednesday he will seek a "very, very, very long jail sentence" for Clary.
Copyright Associated Press. All rights reserved. This material may not be published, broadcast, rewritten, or redistributed.