Suspect in slaying of Kan. deputies now in jail, charges forthcoming
Police Chief Terry Zeigler confirmed that Antoine Fielder is the inmate suspected of fatally shooting the deputies
---
By Max Londberg
The Kansas City Star
WYANDOTTE COUNTY, Kan. — The man earlier identified by sources as the inmate who allegedly shot and killed two Wyandotte County deputies was booked into the Johnson County Jail on Wednesday, according to jail records.
Antoine Fielder, 30, was booked on aggravated robbery charges without the possibility to bond out. No court date is listed.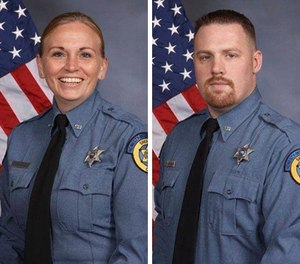 Paul Nonnast, a spokesman for the Johnson County Sheriff's Office, said Fielder "is temporarily being housed at our detention center at the request of Wyandotte County."
He added that such a request is not uncommon "in this type of situation."
The sources told The Star that Fielder was the inmate in transit after a court date in Division 9 of Wyandotte County Court when he allegedly overtook the two deputies last week. Officials believe he may have obtained a gun from one of the deputies.
Deputies Patrick Rohrer and Theresa King were killed.
Fielder was also shot and transported to a hospital in the incident. His condition was not released.
Kansas City, Kan., Police Chief Terry Zeigler confirmed in a tweet that Fielder is the alleged shooter.
"Detectives have been working diligently to wrap things up & anticipate presenting the case to the DA for the filing of charges by the end of the week," Zeigler tweeted in response to an article about Fielder.
Before the shooting, Fielder was being held in Wyandotte County on multiple charges from Dec. 29, 2017, including aggravated assault, aggravated battery and aggravated criminal sodomy. He was being held on $500,000 bond on each charge.
Fielder was charged in the 2015 killing of an Overland Park woman. He went to trial twice in Wyandotte County on first-degree murder charges, but mistrials were declared when juries twice could not reach a unanimous verdict.
Prosecutors dismissed the charge against Fielder after the second hung jury and he was freed from jail. Then in April, prosecutors in Jackson County, Mo., charged Fielder with murder in the Dec. 26 killing of a woman whose body was found in the 600 block of Spruce Avenue.
Rick Whitby, a retired chief deputy in the Wyandotte County Sheriff's Office who worked with both King and Rohrer honored them during a visitation Wednesday.
"(They were) without a doubt dedicated officers," Whitby said. "They did their jobs, did it well."
©2018 The Kansas City Star (Kansas City, Mo.)
McClatchy-Tribune News Service