Tulsa cop cleared in fatal shooting of Terence Crutcher resigns
Crutcher's family filed a wrongful death lawsuit in federal court in June against the city of Tulsa and the officer
---
Associated Press
OKLAHOMA CITY — The lawyer for a white Oklahoma police officer recently acquitted of fatally shooting an unarmed black man has submitted her resignation from the police force.
A jury in May acquitted Tulsa police officer Betty Shelby of manslaughter in the killing of Terence Crutcher last year.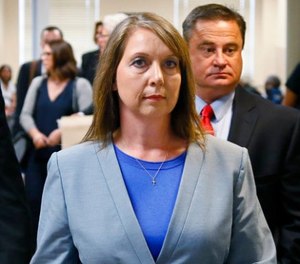 Attorney Shannon McMurray says Shelby has submitted a resignation letter to the department, effective Aug. 3.
Tulsa police spokeswoman officer Jeannie McKenzie did not immediately return a call seeking comment.
Shelby had been working in an administrative role at the police department since she returned to work days after her acquittal. McMurray says her client is not cut out for a desk job.
Crutcher's family filed a wrongful death lawsuit in federal court in June against the city of Tulsa and Shelby.
Copyright Associated Press. All rights reserved. This material may not be published, broadcast, rewritten, or redistributed.